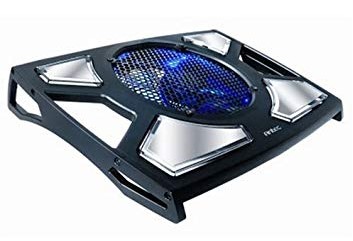 VERDICT
Excellent laptop cooler for hardcore gamers with extreme machines & deep pockets
PROS
Solid construction; keeps your laptop cool; stylish blue LED lighting; powered by USB
CONS
Expensive for a cooler
COMPANY
Antec
http://www.antec.com/ec/
High-performance gaming laptops get hot in a hurry, which is why component manufacturer Antec has tapped into a niche market with the Notebook Cooler 200, a cooling solution specifically designed for über laptops. Premium laptops (the sort most of us can't afford – Ed!) offer capabilities to play the most demanding games and hardware intensive applications, but because of the excess heat that's generated, many of them benefit from a cooler environment to ensure they run at their peak performance and don't brand your thighs.

Antec's Notebook Cooler 200 (£55.31) is a crazy looking peripheral that sits underneath your laptop (your machine must have a fan built into its underside), plugs into a spare USB socket, and then blows away with its 200mm Big Boy fan to keep your precious hardware cool. And when your gaming sessions getting really intense, the cooler can be turned up from 400rpm or 600rpm, should you want to drown out the noise level from your computer. For that custom look, the fan includes blue LED illumination that can be turned on or off by a convenient switch.
The Notebook Cooler 200 is extremely well built – even if made from plastic – and weighs a solid 700g. With a footprint (330x284x22mm) bigger than most 19-inch laptops, it should be able to accommodate all gaming machines on the market. Antec says you can even use the Notebook Cooler 200 on your lap, but I'm sure that like us you're not too keen on a 200mm fan whirring away near to your testicles. It easily attaches to your computer via a tethered USB connector and uses very little power, saving laptop battery juice. You don't even have to worry about installing and managing software – this is a hardware-only solution.
With the increasing power, performance and functionality of today's laptops, it's no surprise that gamers choose a laptop as their primary gaming platform – especially LAN party junkies. The problem is that while power-hungry laptops of today provide high-performance gaming and graphics, they also generate huge amounts of heat. With the Notebook Cooler 200 Antec has succeeded the Notebook Cooler and the Notebook Cooler To Go with a more efficient and user-friendly solution that provides a steady stream of cool air below a laptop, as well as moving the hot air away from the machine. Hardcore gamers who enjoy marathon sessions should definitely take a closer look.
Related posts