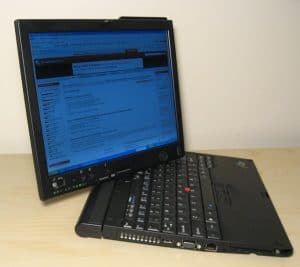 VERDICT
Best-in-class balance of comfort, performance, battery life, & portability
PROS
Fantastic build quality; extremely secure; good performance & battery life; MultiTouch display
CONS
No internal optical drive; basic mono speaker; no ThinkLight
COMPANY
Lenovo
http://www.lenovo.co.uk
According to IDC, convertible tablet PC unit shipments will reach more than one million this year and more than four million by 2010. With more industries relying on tablet PCs, tablet customers have included mobile professionals in fields such as healthcare, insurance, real estate, government and sales. Students in particular claim to prefer tablet PCs over a traditional laptop because of their lightweight and ease of use in taking notes.

The ThinkPad X60T (from £1040 ex. VAT) is Lenovo's latest convertible tablet PC, marking a technology trifecta for innovation, portability and performance. With two screen choices and other innovative Lenovo features, such as dynamic screen rotation, the ThinkPad X60T offers new, combined MultiView/MultiTouch screen features in a convertible tablet PC, giving you the power to compute more naturally whether working in the field or in the office.
The ThinkPad X60T's new 12-inch MultiView indoor/outdoor, anti-reflective/anti-glare display has been designed to help increase viewability (170-degree viewing angles) in multiple environments. However, in our tests we found the screen relatively dull and difficult to view in bright sunlight. On a more positive note, the screen comes combined with a new MultiTouch feature that allows you to move the cursor with the dockable pen or your finger, making interaction with the system a more natural fit. There's also the option to upgrade to a high-resolution SXGA+ (1400×1050 pixels) display – definitely worth doing if you can afford it!
The system comes equipped with Lenovo's patent-pending Active Rotate function. With Active Rotate, the screen immediately orients to you, no matter which direction it turns. The ThinkPad X60T's design also focuses on improving more traditional tablet features like navigational tools and the pen. Now a redesigned navigational dial lets you move easily in four directions, and it even remaps keys so 'up' is always 'up' as you change orientation with Active Rotate. Also, a new, more natural and durable pen resumes from suspend mode automatically when you remove it from its cradle. An enhanced digital microphone repositioned on the front bezel enables accurate voice recognition and rounds out the ThinkPad X60T's sensory improvements.
The ThinkPad X60T's design includes greater performance with more memory, a larger hard disk drive and longer battery life than Lenovo's previous tablet PCs. The system is also prepared for next generation wireless connectivity with select models offering 802.11n technology as well as an embedded WWAN (wireless wide area networking) card. ThinkPad X60T users are also ready for the next operating system with many models shipping with Windows Vista.
The ThinkVantage Productivity Center is a special user-support feature that can help you keep your ThinkPad secure and operating efficiently without wasting a minute of your time. Simply press the Blue Button above the keyboard to open a powerful menu of applications and tools such as Away Manager, which allows time consuming and power hungry applications to run automatically while you are away. A related tool, Whisper Mode, runs processor intensive applications (such as an anti-virus scan) using a lower slice of the total CPU cycles, so you can keep working and multi-tasking. With ThinkVantage Productivity Center you can perform routine system tasks while you work or press a button and walk away – it's PC maintenance made simple!
The base system (from £1040 ex. VAT) comes with an Intel Pentium M processor (1.60GHz, 2MB cache), 1GB PC2-4200 DDR2 SDRAM, 60GB (ATA-100) HDD,
12.1-inch display (1024×768 pixels), Intel 3945 a/b/g, Gigabit Ethernet, V.92 modem, Client Security Solution, Intel Graphics Media Accelerator 900, and Windows XP Professional. Our review model (from £1280 ex. VAT) upped the ante with an Intel Core Duo processor (1.83GHz, 2MB cache), 1GB PC2-5300 DDR2 SDRAM (upgradeable to 4GB), 80GB SATA HDD, Intel Graphics Media Accelerator 950, and Embedded Security Subsystem 2.0. A couple of things to note: The ThinkPad X60T has no built-in optical drive and the mono speaker is located on the bottom of the system, which makes for muffled audio.
Expansion options are very good for an ultra-portable machine. There are separate headphone and line-out ports, infrared, 4-pin FireWire, three USB 2.0 ports, VGA-out, Type II PC Card (with ExpressCard 34 adapter), Bluetooth, Wi-Fi 802.11 a/b/g/n, and SD/MMC card reader. Battery life from the standard 4-cell Lithium-Ion unit is reasonable, offering around 3.3 hours operating time, but frequent travellers will want to opt for the 8-cell battery (7.5 hours of quoted battery life). Security features are excellent, comprising a Security lock slot, Supervisor password, Hard disk drive password, Power-on password, and IBM-inherited Embedded Security Subsystem 2.0 (including hardware fingerprint reader).
The Lenovo ThinkPad X60T marries the best aspects of a laptop and a pen-based device. With new screen options, hardware capabilities and an improved sensory experience interacting with the tablet, Lenovo's ThinkPad X60T is a leading light in the tablet PC market. The system is extremely well built and the keyboard is very comfortable considering its size. The choice of XGA or SXGA+ MultiTouch displays allows you to save money if necessary, and port selection for an ultraportable is superb. And best of all you get excellent performance from Intel's Core Duo processor and 7200rpm hard disk drive. In general, if you can do without a built-in optical drive, the ThinkPad X60T delivers a best-in-class balance of comfort, performance, battery life, and portability.
Related posts