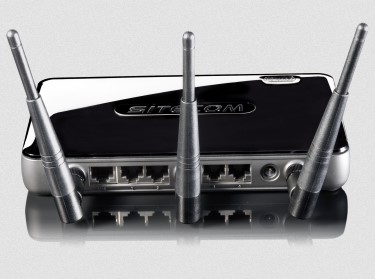 VERDICT
Good all-round router for hardcore gamers
PROS
Compact; easy to use; 802.11n & Gigabit Ethernet; automatic QoS; built-in security
CONS
802.11n performance can be bettered; no graphical display; no IPSec VPN or firewall
COMPANY
Sitecom
http://www.sitecom.com
If you hate the idea of sharing your broadband connection with family members or roomies, you'll want to invest in a router. And if online gaming is your favourite time waster, you'll one to get one optimised specifically for that purpose. One thing to bear in mind with routers – especially compared to switches – is that some can suck for gaming since they have a built-in firewall, which causes a hassle port forwarding. That is, unless, you can turn the firewall off and get a software-based one. Alternatively, you can buy one designed specifically for gaming.

One of the best routers to go for is Sitecom's WL-308 300N XR (£109), an 802.11n draft 2.0 router with built-in Gigabit Ethernet. Besides its compact yet eye-catching 'piano black' finish, what's so special about the router is that it allows you to set QoS (Quality of Service) – most consumer lever switches can't do this. The major benefit of QoS is that it lets you regulate bandwidth (throughput) needs between users, so other users don't interfere with your latency and suck up all your bandwidth. Other elements of network performance within the scope of QoS often include availability (uptime), latency (delay), and error rate.
QoS involves prioritisation of network traffic. QoS is especially important for the new generation of Internet applications such as VoIP, video-on-demand and gaming. It's worth remembering that any decent router that you get will be faster than your ISP's speed, making QoS a vital feature. How well QoS will work for you will also depend on your ISP, so you might want to ask them for some advice. Thankfully, the Gaming Router automatically recognises application patterns in the datastream and allocates priority to those applications which need the best performance for optimal use of the available bandwidth. This intelligent technology, named StreamEngine, helps guarantee optimum wireless and wired performance. You don't even need to be a tech-head to manage this advanced QoS functionality because it's activated automatically – no settings or additional software are required!
If you are technical and don't mind getting your hands dirty, the WL-308 300N XR features Preconfigured Application Level Gateways, so that you have preconfigured settings for the most recent popular online games. Furthermore, this list can be expanded and modified, so that you always have access to your favourite online games. It even features an Advance Scheduled Access Control function, enabling Internet traffic management: you can indicate for each computer in the network at which set times use can be made of the Internet and to which pages access can and cannot be granted. Another neat feature of the WL-308 300N XR it its dedicated WPS button to create a secure connection with a single push of a button. Thanks to the WPA-TKIP and WPA-AES encryption, your data and privacy are automatically protected without any complicated software installation. Awesome!
The WL-308 300N XR is equipped with the latest wireless network technology, so it supports speeds of up to 300Mbps – expect around 90- to 100Mbps in the real world! The router is fitted with three 3dBi detachable antennas, helping to ensure optimal cover. For gamers who prefer a wired network, the WL-308 300N XR has a built-in 5-port full-duplex 10/100/1000 switch which delivers wired performance that is 10x faster than a standard network with speeds of up to 100Mbps. So whether you're at home, college or a LAN party, the Gaming Router has got your back covered.
Sitecom's WL-308 300N XR offers decent performance and a long list of features for home wireless networking and hardcore gamers. It's most appealing feature, however, is that it's a snap to use thanks to the way it removes confusion about QoS and wireless security. The router is beaten in terms of pure 802.11n performance by the like of Netgear, but for serious online gamers it's a good choice. Before committing, however, you might want to consider D-Link's DGL-4500 Xtreme N Gaming Router (£149.99), which includes a nice, but not essential, OLED display and the ability to use the less-crowded 5GHz bands (assuming you have the wireless client adapters to match).
Related posts