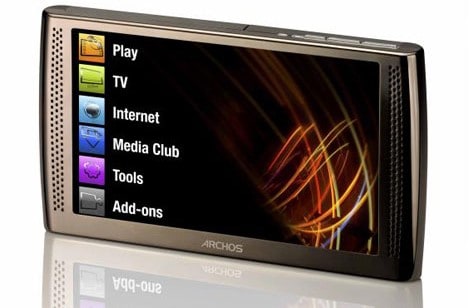 VERDICT
The best portable movie player around
PROS
Amazing build quality; stunning display; supports all popular formats; Wi-Fi; Web browser & e-mail application; built-in stand
CONS
Heavy; no built-in 3G or FM tuner; no carrying case; expensive optional extras
COMPANY
Archos
http://www.archos.com
Archos' latest Internet Media Tablet is a sight to beyond. A year after releasing the 605 Wi-Fi portable video player, this new badboy sports glorious gunmetal casing, a touchscreen display (800×480 pixels) and weighs the same as a newborn baby (190x110x16mm, 640g). Available in two different capacity options – 160GB (£299) and 320GB (£349) – the Archos 7 offers the largest hard drive of any handheld media player and enough space to hold up to 300 full-length movies, thousands of songs, or millions of photos. It's also the only 7-inch handheld tablet equipped with PC-like performance and the world's first implementation of the ARM Cortex 600MHz superscalar microprocessor. As you've guessed by now, this is no kid's toy.

Not to be confused with the company's line of portable video players (such as the Archos 605 WiFi), which will continue to be manufactured and offered alongside the new tablets, the new offering includes video and music playback (MPEG-4, AVI, WMV, MPEG-2, h.264, MJPEG, DIVX, MP3, WMA, AAC, WAV), a photo viewer, touchscreen navigation, a Flash-enabled Web browser (Opera), DVR capabilities, games, and Mac/PC compatibility. Familiar hardware features such as a fold-out kickstand, integrated speaker, and 3.5mm headphone jack are also included. That's not all. There's even a new e-mail application and an integrated multimedia platform that uses a Wi-Fi for extremely fast Web access anywhere you can join a wireless network. It even boasts an incredible 39 hours of audio playback time (10 hours of video playback time), which is amazing considering the power inside this gadget.
Archos doesn't include a built-in microphone, so the possibility of leveraging the Wi-Fi capabilities to place VoIP calls is unlikely (but not impossible). No instant messaging applications come bundled with the Archos 7, but with a full Web browser and large touchscreen keyboard at your disposal, it's easy enough to maintain your presence on social networks such as Twitter and Facebook. Another disappointment is that because of the redesigned dock connection, many of the accessories currently made for the Archos 605 Wi-Fi will need to be repurchased to work with the new tablet, including the popular FM remote (£30) and DVR Station (£90) for connecting the tablet to your TV via HDMI or composite video. The dock also lets you stream media from PC, watch Web TV, as well as buy or rent movies from the Media Club.
On the software side, a video software plug-in (£15) lets you playback 720p video resolution at 24fps MPEG-4 and WMV formats, which is ideal if you plan on connecting the player to a high-definition TV. After registering your Archos media tablet, two plug-ins will activate free of charge, including the Flash 9-enabled Opera Web browser and a Web TV/Radio plug-in. Similar to Apple's iPhone and iPod Touch, Archos plug-ins can be downloaded and installed directly over Wi-Fi without requiring a computer as an intermediary.
Operating the Archos 7 is a complete joy and puts computers to shame. One simple push of the power button brings the device to live in a couple of seconds, presenting you with the colourful and intuitive home screen. There are also dedicated volume controls on the top of the unit, along with a standard 35mm headphone jack (earbuds supplied) and proprietary USB connection cable. From the home screen you can launch any of the Archos 7's installed applications, as well as view the time, check volume level and battery status, as well as monitor a Wi-Fi signal.
When Archos designed the Internet Media Tablet it wanted to develop the ultimate travel companion for commuters, on-the-go families and savvy travellers who need access to the Internet, e-mail, their digital media and favourite TV shows to stay connected and entertained anywhere and everywhere. With impressive hard drive capacities, multiple ways to access and enjoy content, and a brilliant screen that makes watching movies on the go a pleasure, the Archos 7 is the gadget of choice for those wanting the very best in portable entertainment. Sure it's big and heavy compared to a phone or PDA, but it's a whole lot sexier and more practical than a netbook or laptop. The only downsides are that there's no built-in 3G for Internet autonomy wherever you go, Some Web pages don't work correctly (plug-ins problems?), and you need to purchase additional things to fully make use of it. And although the tablet is already very expensive, Archos doesn't even have the decency to include a carrying case to protect this precious cargo.
Related posts