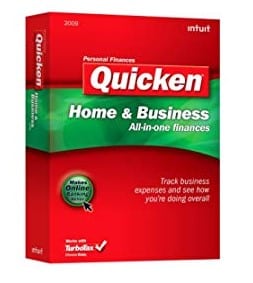 VERDICT
Tons of features, but Quicken's mix of business & pleasure doesn't make for a happy and long-lasting marriage
PROS
Intuitive interface; comprehensive financial management for individuals
CONS
Not tailored to the UK; incomplete small-business features – no payroll or Fixed Assets
COMPANY
Intuit
http://www.intuit.co.uk
Quicken is probably the most famous personal finance management software. Developed by Intuit, Quicken runs on Windows and Macintosh systems, and there is now even an online version. Confusingly, there are several versions of Quicken so you need to make sure you pick the right one: Quicken Starter Edition, Quicken Deluxe, Quicken Premier and Quicken Home & Business. Thankfully, each version tends to have the release year in the product name, (eg. Quicken Deluxe 2009), but development of UK-specific versions of Quicken was discontinued in January 2005.

Let's get the differences between each version out the way. Quicken Starter Edition 2009 ($29.99) provides very basic personal finance tools, but does not import data from Quicken Deluxe or higher Quicken versions. It lets you Categorise expenses and keep a budget, view monthly expected income and expenses and how much money is left over after expenses are paid, reconcile accounts, download account transactions, and generate income tax reports. Next up is Quicken Deluxe 2009 ($39.99, which has all the features of Quicken Starter Edition 2009, plus tabbed navigation on the right with quick access to reminders, Quicken online community and guidance for the part of Quicken being used, and My Savings Plan for advanced budgeting. There's also Quicken Attachments for transactions and accounts, 401(k), IRA and 529 account tracking, collapsible left account navigation bar for increased work space, tag transactions similar to tagging Web pages in social bookmarks, and Quicken Billminder Gadget for Windows Vista users showing scheduled bills and transactions right on your desktop.
Quicken Premier 2009 ($69.99) includes all the features of Quicken Deluxe 2009 along with investing tools with the latest asset allocation and investing guidelines. Other investment tools in Quicken Premier 2009 features include investment performance analysis, help with minimising taxes on capital gains, reporting for IRS Schedules A, B and D, and Morningstar ratings for mutual funds and ETFs. Many small business owners combine both personal and business transactions in one account. Quicken Home & Business 2009 ($79.99) gives you the personal financial features found in Quicken Premier 2009 plus home business tracking tools. Business and personal income and expense categories are clearly separated, the Profit and Loss view reveals deposits plus expected income, expenses plus upcoming bills, deductible totals and profit/loss for the current and previous months, possible tax-deductible expenses are flagged for review, and there's also Year-to-Date tax deduction reporting.
If you want to manage your small business and personal finances in one place, Quicken Home & Business 2009 could be the right package. Designed specifically for home business owners and self-employed professionals, it's a pretty useful tool for managing your businesses' accounts – if you don't mind spending hours setting up the software correctly and working your way around its large array of features. What is neat, however, is that because Quicken Home & Business tracks both your personal and business finances, it's easy to track business expenses you paid for with a personal account – i.e., office supplies on a personal credit card or dinner out with a client you paid for with personal cash. It's also easy to see how your business is doing. The Business tab gives you an overall snapshot of what's coming in for the month, what's going out, and what's left in your accounts.
Quicken Home & Business 2009 is a good personal accounting package with a few small-business features. It is easy to set up, understand and use (the help documentation is excellent; complete with a search function), and the separate business features are easy to manage. Navigation is intuitive and the drop-down menu at the top of the screen has icons below to help you find the setup wizard and extra services. Most of the program focuses on personal accounting, though, and its investing tools, tax planning tools, and property and debt management tools are redundant to those not living in the U.S. The software lets you to make and e-mail invoices but you cannot track shipments or print labels.
As user-friendly as it might be, Quicken Home & Business 2009 lacks important small business features, such as Inventory, Payroll, Time Billing, and Jobs Management. It does have Accounts Payable and Accounts Receivable sections, some cash flow options and a Balance Sheet, but overall it's not a complete small-business solution. One feature that did stand out was Job Costing. Here you can make a master job list to track jobs and set them as active or inactive. You can also make a job estimation list to evaluate if the project is worth your time. These lists can be e-mailed, but Quicken doesn't have reporting categories for job costing. If you need a program for personal accounting with only a few small business extras, Quicken Home & Business 2009 works. Having said that, until Intuit starts to produce UK-tailored versions of its software again, you should tread carefully.
Related posts