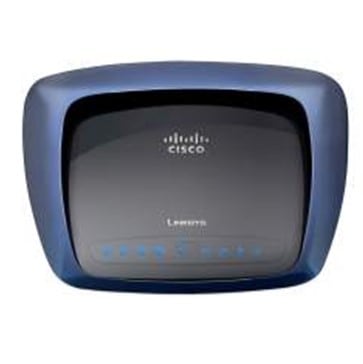 VERDICT
Cutting-edge router technology, but wireless performance can be bettered
PROS
Internal antenna; simultaneously supports both 2.4GHz & 5GHz Draft N; Wi-Fi-Protected Setup; enterprise-level security; supports USB storage devices; easy to use
CONS
Expensive; no integrated broadband modem; can't be used as a printer server
COMPANY
Linksys
http://www.linksys.com/uk
Linksys' Simultaneous Dual-N Band Wireless Router (WRT610N) is a router designed for the home which builds on the heritage of the WRT600N. Designed to achieve Wireless-N performance in both the 5GHz and 2.4GHz spectrums, the WRT610N lets 802.11n and 802.11g users coexist without faster 802.11n users having to use the crowded 2.4GHz space. And since it is dual N-band, two 802.11n users can connect independently without getting in each others way. This is super, in theory, as wireless is slowly getting better. But still no marketing pitch can get around real-world radio interference, and HD video and gaming really demands a wired Gigabit Ethernet connection for the best performance – £149 can buy a lot of cable…

Thanks to its low-profile design and shiny blue/black fingerprint-magnet finish, the WRT610N is a great looking device. The router even does away with external antennas, which is the first time we've seen this. The front of the WRT610N is littered with eight status LEDs, and there's also a Wi-Fi Protected Setup button (more on this later). At the rear of the device are four 10/100/1000 Ethernet ports for connecting PCs and laptops, an Internet port for hooking up a router (sadly the WRT610N doesn't include a broadband modem), and a USB port for easy network storage sharing. The router is surprisingly well built (Linksys products can be hit and miss), and the fact that there are no removable parts means the kids can't walk off with an antenna.
The biggest selling point of the WRT610N is that it effectively provides two networks to which you and your family/room buddies can connect devices. For instance, you can connect entertainment-oriented devices, such as a Media Center Extenders, audio players or Personal Video Recorders (PVRs) to the wider 5GHz band, while connecting other devices like PCs, print servers, or Network Attached Storage (NAS) to the more common 2.4GHz band. The 5GHz spectrum provides more than seven times the number of non-overlapping wireless channels, allowing for clearer transmissions, while the 2.4GHz spectrum allows older network devices to access the network. Where the WRT610N stands out is that it allows you to achieve full Wireless-N network speeds on both bands at the same time, unlike some products on the market (i.e. Apple's Airport Extreme) that are framed as Dual-Band and allow access to only one band at a time or lose transmission speeds when both bands are in use.
Managing the router is a snap thanks to Linksys' EasyLink Advisor (LELA), which provides a flash video-based guided installation guide for PC and Mac users. Once installed, LELA provides a visual overview (network map) of all the devices connected to your network, letting you quickly view the status of the network. When a new authorised device is connected, LELA automatically discovers the device and adds it to the network map. Advanced users who like to get their hands dirty can launch the advanced configuration via the traditional Web GUI method from within the EasyLink Advisor interface. From the WRT610N's Web-based interface you can also customise the router's NAS functions.
Linksys has done a good job of presenting the WRT610N, and thankfully it hasn't forgotten about core features. Wi-Fi Protected Setup is an optional certification program from the Wi-Fi Alliance that is designed to ease the task of securely setting up and configuring devices on wireless local area networks. The WRT610N features a button that enables you to add additional devices to your network by simply pushing it and the corresponding button on the other certified product. Furthermore, all major wireless encryption standards are supported, including WEP, WPA-personal, and WPA-Enterprise. The router also allows for VPN Passthrough, so if you have the router at your home you can use a VPN client to access your office via a VPN connection.
'Entertainment Optimized Networking' technology is a kind of Quality of Service (QoS) that helps when multiple users are sharing heavy multimedia content across the network. The WRT610N is designed so that network performance is fine-tuned to give priority to High-Definition video without the need for manual configuration. You can, however, customise your network to give priority to certain devices like PCs or gaming consoles, over others. Unfortunately, the WRT610N can act as a printer server, which is disappointing.
The WRT610N worked reasonably well in our tests, though you can get better 802.11n performance if you're not bothered about dual-band. You should expect data throughput rates to top out at around 75- to 80Mbps in 5GHz, and ranges of 20- to 50Mbps in 2.4GHz. In a rough comparison, Apple's AirPort Extreme Base Station with Gigabit Ethernet generally hits over 100Mbps in the fastest 5GHz mode in testing, though speed obviously differs depending on location. Overall the WRT610N is easy to use and all of the important features you need from a router are present – except perhaps for a broadband modem and the facility to serve printers. You'll love the WRT610N if you're an early adopter who thrives on the latest kit, but consumers still getting their head around wireless networking don't need the additional complications of dual-band.
Related posts