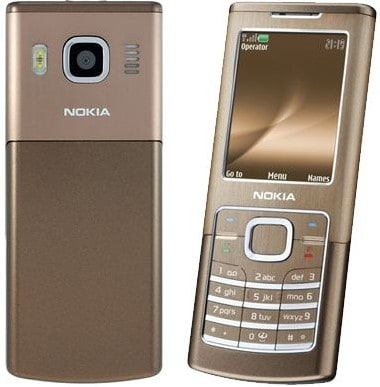 VERDICT
A killer handset in the mid-range market
PROS
Gorgeous design; 3G; breeze to operate; 1GB storage; excellent voice quality
CONS
Only 2-Megapixels; no video calling or microSD slot; disappointing battery life
COMPANY
Nokia
http://www.nokia.co.uk
If you're shopping for a no-fuss mobile phone that's a breeze to operate, you'll struggle to beat a Nokia. The company's latest handset is the elegant Nokia 6500 Classic (around £199 unlocked), which is impressively slight (it's barely 10mm thick and tips the scales at a featherweight 94g) yet packed with features that should satisfy all but the most demanding. The only disappointment is lack of 3G video calling as there's only a single camera mounted on the rear.

Showcasing Nokia's latest technology in the mid-range market, the Nokia 6500 Classic has been designed to be precisely balanced in the hand, with large keys and ergonomically correct dimensions and surfaces. The phone has also been created with maximum usability in mind, along with third-generation WCDMA technology and a sleek contemporary design (available in black or bronze) that has to be seen to be appreciated.
Instantly recognisable by its hardwearing anodised aluminium casing, the Nokia 6500 Classic is a 9.5mm thin statement of chic. And according to Nokia, each hadset is individually polished, ensuring that no two phones are exactly alike, while diamond polishing used on the bevelled display aperture and cold stamped logo demonstrate high levels of craftsmanship. This is no ordinary handset.
However, attention to detail found in the Nokia 6500 Classic is much more than skin deep. Featuring dual-band 3G technology for fast and easy downloads and browsing, quad-band GSM for worldwide roaming, and Bluetooth for peripheral pairing, the handset delivers a robust set of connectivity options. There's also a whopping 1GB of internal memory (around 980MB accessible after the OS has had its wicked way), which means that the Nokia 6500 Classic has capacity for far more pictures, videos, contacts, songs, messages and other content than the vast majority of other mid-tier mobile phones. It's a good thing too, as there's no removable memory card slot!
The familiar Nokia Series 40 interface provides easy access to the handset's feature set, including a 2-Megapixel camera with dual LED flash and an integrated music player. Furthermore, a unified micro-USB connector simplifies charging, audio and data connectivity by consolidating them into a single compact port. This allows for the Nokia 6500 Classic to be used as a high-capacity flash drive or to be charged directly from a computer – all with one cable. The downside is that you won't be able to use your standard 3.5mm headphones.
The Nokia 6500 Classic is a brilliant phone for day to use. It hasn't got anywhere near as many features as the amazing Nokia N95 (such as GPS, FM tuner, front-facing camera and so on) and battery life is disappointing at just 3h 30m talktime, but it's a totally practical phone for heavy voice callers. Messaging and e-mail are obviously restricted due to the lack of a QWERTY keyboard, but those who sent lots of text messages should quickly work their way around the Nokia 6500 Classic's excellent keypad and menu system. Enthusiast photographers will balk at the rather limited 2-Megapixel digital camera, and business users may want 3G videocalling to prove to their boss that they're not out on the golf course, but the rest of us should be very well served by Nokia's best looking phone to date.
Related posts