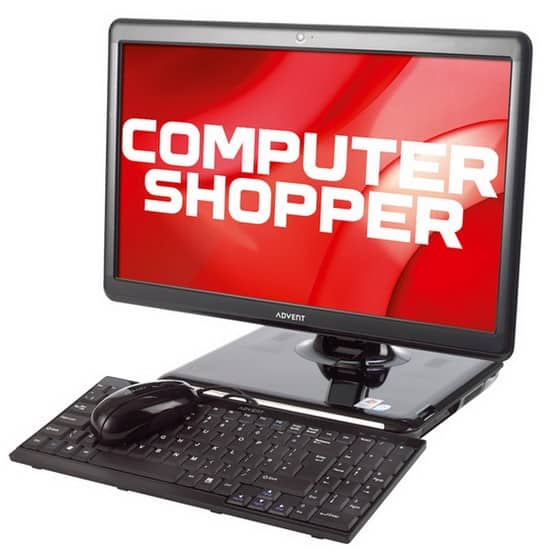 VERDICT
Basic machine for browsing the Web & creating office documents
PROS
Good value; easy to setup & use; runs cool & quiet; built-in Wi-Fi; wall mountable
CONS
Lacklustre specifications; display isn't touchscreen; no Bluetooth
COMPANY
PC World
http://www.pcworld.co.uk
PC World recently started selling a new range of all-in-one Advent desktops. The 22-inch Advent AIO-200 and the 18.4-inch Advent AIO-100 (reviewed here), which retail for £849 and £399 respectively, and both available exclusively at PC World stores across the UK and online.

Requiring only one cord to set up and power the system, PC World's Advent AIO-100 is a relatively compact all-in-one desktop PC with a nice glossy 18.4-inch display. Far from being a powerhouse, the AIO-100 is surprisingly good value for those not wanting to play the latest games or indulge in processor-crippling video editing. The space-saving styling means that all of the machine's components are tucked away nicely and out of view in the glossy black base unit, which also doubles as the monitor stand. Sadly, the screen can't be swivelled and it couldn't be raised as high as we'd have liked. But it's a compact and practical design given the price.
Under the hood the AIO-100 is more like a laptop than a desktop computer. The machine is powered by Intel's energy-saving Atom N270 (1.60GHz, 533MHz FSB, 512KB cache) processor, 1GB of DDR2 memory, 18.4-inch TFT display (1680×945), a paltry 160GB hard disk drive, and Intel's lacklustre GMA 945 graphics chipset. Windows XP is the operating system of choice, probably due to the fact that the AIO-100 would struggle to run Microsoft latest operating system, Windows Vista. As you can image, with these specifications the AIO-100 is best suited to youngsters and grandparents wanting nothing more than to browse the Web and send e-mails, or those who want a computer for printing letters and such like.
There are some nice touches, however, such as the inclusion of a dual-layer DVD burner (flimsy tray mechanism rather than chic slot-loading), Gigabit Ethernet, built-in wireless (802.11b/g/n), an integrated 1.3-Megapixel Web camera, media card reader (MMC/SD/MemoryStick), and five USB 2.0 ports (two are side mounted, while the rest are inconveniently at the back). There are headphone and microphone jacks too, along with an analogue video-out port (D-Sub). PC World also supplies a matching slimline USB keyboard and mouse. The AIO-100 has a really usable screen size so it can be easily moved from room to room and is also wall mountable.
Those wanting the latest technology will baulk at the lack of a touchscreen display, an increasingly exciting innovative that creates a fun, engaging and simple touch experience for familes. You may also miss the opportunity to watch and record your favourite TV shows, or watch Blu-ray movies. The integrated stereo speakers are reasonable, but are far too quiet for engaging music or movie playback, and the mono microphone is too underpowered for video conferencing or instant messaging.
The computer world has seen a big rise in the demand for all-in-one units, thanks largely to the stellar efforts of ASUS, Dell, and HP. Gone are the days of chunky grey boxes sitting under desks in the home or small office. And now with the Advent AIO-100 we are really tapping in to the fact that more and more people want to use their PCs in their kitchens, living rooms and bedrooms. The Advent AIO-100 is a million miles away from being the perfect computer, but it could be just the ticket for someone on a very tight budget that's looking for a multi-functional and easy-to-use PC. Combining the popular, budget-friendly specifications of netbooks with the screen size of a desktop all wrapped up in one neat transportable package, the Advent AIO-100 is a reasonable effort. As long as you don't expect cutting-edge design or performance you shouldn't be disappointed. If it was our money, we'd look more closely at ASUS' Eee Top range.
Related posts