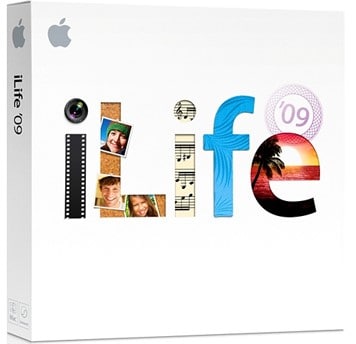 VERDICT
One of the best reasons to buy a Mac
PROS
Great price; five unbelievably fun & easy to use programs; integrates well with the Web
CONS
iDVD has no Blu-ray support
COMPANY
Apple
http://www.apple.com/uk/
iLife is a fantastic software suite from Apple. In fact, it's so good that it is one of the biggest reasons consumers choose to get a Mac – besides all the lure of shiny aluminium! The suite consists of iPhoto, iMovie, iDVD, Garageband, and iWeb, which are applications for organising, viewing and publishing digital content (pictures, movies, music, and Web pages). iMovie, iTunes, and iPhoto were originally available free via Apple's Web site, while iDVD was available only with computers that included SuperDrives. In January 2003, the programs were packaged together as 'iLife', while iTunes remains a free application. iLife '09 is included with every new Mac purchase and available separately for the rest of us (Best Current Price: £59.80). Sadly the suite is not available for Windows users.

iLife '09 features major upgrades to iPhoto, iMovie and GarageBand, and includes iDVD and an updated version of iWeb. iPhoto '09 builds on the ability to automatically organise photos into Events by adding Faces and Places to easily organise and manage your photos. iMovie '09 expands on the super fast movie creation introduced in iMovie '08 by adding easy-to-use new features such as the new Precision Editor, video stabilisation, advanced drag and drop, and animated travel maps. GarageBand '09 introduces a whole new way to help you learn to play piano and guitar with 18 basic lessons and optional lessons from top artists such as Sara Bareilles, John Fogerty, Norah Jones and Sting.
With iLife '09, Apple has made working with photos, making movies and learning to play music a lot more fun. The software makes it even easier to browse and search photos, not only by when they were shot (Events), but by who appears in them (Faces) and where they were taken (Places). iPhoto automatically scans photos to detect people's faces and when you assign a name to any face iPhoto will automatically find more pictures of that person. The library can be searched by name or browsed using the new Faces View. Places automatically imports photo location data from a GPS-enabled camera or any iPhone or you can manually assign a location to any photo, group of photos or event.
Once iPhoto knows where photos were taken, you can explore them with a simple search or an interactive map. iPhoto '09 also lets you publish photos to Facebook or Flickr. Photos published to Facebook include assigned names, and name tags added on Facebook sync back to iPhoto. You can also share photos by creating a themed slideshow to play on your Mac, iPhone or iPod, or create a travel book, complete with customised maps of your journey.
iMovie '09 lets you create a movie quickly, or add refinements and special effects to your project if you have more time. Drag and drop one clip on top of another to reveal new advanced editing options, including replace, insert, audio only, and even picture-in-picture or green screen. With the Precision Editor, you can skim and click on a magnified filmstrip to view clips up close and fine tune any edit, like identifying precisely how much to keep, where to cut, use sound from one clip with video from another and more. iMovie '09 analyses video and reduces camera shake in clips when added to your project. New titles, transitions, cinematic effects, speed changes and animated travel maps add polish to your movie.
GarageBand '09 now gives budding musicians a fun new way to learn to play piano and guitar. Basic Lessons let you learn the fundamentals at your own pace with Apple instructors in HD video synchronised to animated instruments and notation. Artist Lessons feature original artists showing how to play their hit songs with everything from finger positions and techniques to the story behind the song. You can choose from lessons by popular artists including Sara Bareilles, Colbie Caillat, John Fogerty, Ben Folds, Norah Jones, Sarah McLachlan, Fall Out Boy's Patrick Stump, OneRepublic's Ryan Tedder and Sting. Artist Lessons are sold separately at the new GarageBand Lesson Store, available inside the GarageBand '09 application. GarageBand '09 also includes new guitar amp and stomp-box effects, and Magic GarageBand Jam lets you play along with a virtual band that you create.
iLife '09 includes iWeb '09 for authoring custom Web sites and iDVD '09 for creating DVDs. iWeb is perhaps the least-used part of iLife, but it makes site creation easy and HTML-free. The latest version adds new iWeb Widgets, such as iSight video and photos, a countdown timer, YouTube video and RSS feeds. Site publishing was difficult with previous versions, so we're glad to see that iWeb now contains an integrated FTP publisher and that we're able to manage many sites from the Site Organizer pane. We'd like to see page-creation tools greatly increased, though, such as a way to group and save repeated elements and an easy way to customise the appearance and placement of site menus.
Apple's iLife '09 is one of the most impressive collection of media applications on the market. If you are an iLife '06 user and your system can run Mac OS X 10.5 smoothly, iLife '09 is certainly a significant step forward, but if you are happy with iLife '08 then it becomes a harder sell. Apple doesn't reward loyalty either: there are no discounts to owners of earlier versions, so whether you are running iLife '04, '06 or '08, the '09 version will cost you the same. Nonetheless, iLife is still the best suite out there for combining your photos, videos, and audio recording into stunning projects to show friends and family. If you've got multiple Macs in your house, you may want to consider the Family Pack (Best Current Price: £73.60), which comes with rights to install the software on up to five different machines.
Related posts