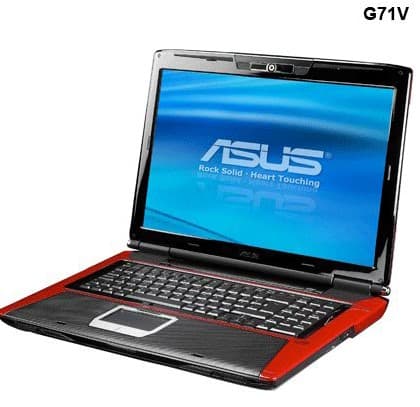 VERDICT
Substance, style & performance, the G71V will revolutionise your mobile gaming experience
PROS
Fantastic design & build quality; gorgeous display; scorching performance; informative second display; top-notch keyboard & audio; HDMI port; great ASUS software
CONS
Doesn't support nVidia's flagship graphics card; no DVI port; no solid state drive option; bright red could be too much for some
COMPANY
ASUS
http://www.asus.com
Forget Alienware and its overhyped, overpriced machines – there's a new kid on the block. Okay, so ASUS isn't exactly a new company, but the Taiwan-based manufacturer best known for its über-quality peripherals (motherboards, graphics cards, and the like) now wants to dominate the high-end gaming space. ASUS already has extreme gaming desktop PCs for enthusiasts, but the G71V is by far the company's most impressive piece of hardware to date.

Beautifully packaged in Republic of Gamers (ROG) livery, the G71 (410x299x45mm, 3.9kg) is built to impress. Sporting a black and Ferrari-red enclosure that screams performance, the G71V offers everything a hardcore gamer could possibly ask from a portable computer. For starters, the machine is the world's first to integrate Intel's Core 2 Extreme processor QX9300 processor. But if you don't fancy the asking price (£1999), you can always save some cash by dropping down to an Intel Core 2 Duo (£1349). Windows Vista Ultimate is pre-installed whichever model you go for.
As a laptop designed for hardcore gamers and multimedia junkies, the G71V boasts an array of high performance components, including a gorgeous Full HD 17-inch (1920×1200) 'Crystal Shine' high brightness display with super-fast response time of 8ms, nVidia GeForce 9700M GT GDDR3 512MB graphics card (sadly there's no GeForce 9800M GTX option, but it's still capable of defending humanity from the Necris invasion), 4GB of DDR2 1333MHz SDRAM memory (this'll eat Photoshop for breakfast), dual hard disk drives offering a total storage capacity of 1TB, 2x Blu-ray drive, Web camera, along with 801.11n, Bluetooth and Gigabit Ethernet for great connectivity and communication.
Input and outputs ports are plentiful, which is what you'd expect from a desktop replacement laptop. Not only is there a useful 8-in-1 card reader, but there are microphone, headphone and digital audio ports (S/PDIF) jacks hidden nicely behind a flip-open cover, VGA port for an external analogue monitor, HDMI port for the latest digital-only monitors, ExpressCard Slot, four USB 2.0 ports, IEEE 1394 port, e-SATA port for connecting external storage devices, and an optional TV Antenna Input for watching television on the machine. Sadly there is no dedicated DVI port. The 8-cell (5200mAh) battery should be good for a couple of hours of gaming on the go.
ASUS wasn't content to stuff the G71V with as much cutting-edge technology as possible. The company has crafted a beautiful chassis that oozes style and build quality. The outside lid sports a glossy black lid with an eye-catching back-lit ROG logo and side-mounted lights, the and the glossy red finish and carbon fibre palm rests make you feel like sitting behind the dashboard of a supercar. There's even a dedicated numerical keypad, which is ideal for gaming shortcuts and number crunching, and an eye-catching OLED display (dubbed 'Direct Messenger') and touch-sensitive backlit shortcut buttons just below the main screen.
The G71V's Direct Messenger is a secondary display that means you needn't worry about missing out on communications from e-mail and instant messenger while eliminating the world from alien scum. The screen displays notifications, instant messages (MSN), battery reserves (cool little logo) and memory and CPU usage in real-time, so that you can keep in touch with friends and family while multitasking between various applications, or just soak up technical information for the sake of it.
That's not all. The Direct Console 2.0 is an easy-to-use tuning control interface that allows you to choose from three processor speed settings (Normal, Turbo, Turbo extreme) depending on your mode of usage. The gaming hotkeys enable you to launch your favourite games with a single touch, as well as execution of in-game commands. The G71V chassis also integrates a programmable lighting system which is configured through the Direct Console 2.0, which lights up and blinks during in-game events for a stylish ambience while immersed in play.
The G71V incorporates a host of entertainment features which offer a computing experience to better most desktop PCs. Altec Lansing speakers equipped with a subwoofer deliver excellent sound reproduction, further complimented by Dolby Home Theatre. A dedicated game keyboard layout provides you with strategically placed movement keys on a full-sized keyboard, and the 2.0-Megapixel Web camera provides stunning image quality that's perfect for instant messaging.
Despite the capabilities to satisfy even the most hardcore gamer, the G71V is just as adept at running resource intensive Windows Vista applications, such as image and video-editing programs. If you're looking for a truly dedicated gaming experience within a highly portable package, this badboy is just the ticket. In fact, we'd go so far as to say it's one of the best overall gaming laptops on the planet – especially considering ASUS' aggressive pricing. Alienware still has the upper hand in terms of raw power and customisation (the G71V can't be customised with CrossFire graphics cards or solid state drives for instance), but as an overall package the G71V it is hard to beat. It even runs so cool and quietly that you'll hardly notice it's even on! Our only disappointment is lack of support for nVidia's flagship GeForce 9800M GTX graphics chipset.
Related posts