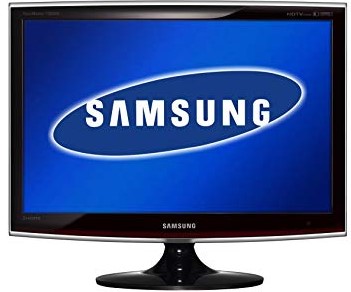 VERDICT
Top quality computer monitor that doubles as a digital TV – how's that for value!
PROS
Outstanding value; eye-catching design; Full 1080p HD; built-in digital TV tuner & speakers; great image quality & sound; versatile range of input connectors
CONS
No PiP support; no USB-powered hub; no HDMI or SCART cables supplied
COMPANY
Samsung
http://www.samsung.co.uk
At first glance Samsung's T260HD looks like a television, but it's actually a high-resolution computer display that has multiple inputs. Thanks to these inputs and some internal magic from Samsung, the display even doubles as a 1080p television. The T260HD is, unquestionably, irresistible, inside and out. The high-definition monitor cum television not only looks stunning thanks to its glossy piano black finish, curvaceous bezel and funky clear plastic edging, but picture quality and features are equally up to the task. If you have a small living room where you want a television and a computer display, but don't have room for both, the T260HD is for you.

The T260HD (Best Current Price: £359) is a hybrid 26-incher. As it features a built-in digital TV tuner (standard definition), you can watch both TV and enjoy the benefits of high-definition entertainment at your computer desk. How's that for value! Two High Definition Multimedia Interface (HDMI) connections make the T260HD a multimedia centrepiece and let you easily and conveniently connect your other digital devices such as a Blu-ray player and video games console. Heck, there are even DVI-D, VGA, SCART (RGB), and component video inputs to whet your appetite, along with audio input (left/right analogue), audio output (SPDIF digital audio) and headphone jacks. Sadly there is no USB-powered hub option or composite video inputs, but something had to give.
Setting up the display is a relatively painless affair, though it must be said that Samsung's paper-based install guide/pamphlet is a little light on information. Nonetheless, in a few moments you'll have attached the matching oval stand and hooked the display up to your computer using either an analogue (VGA) or digital (DVI) video connection. It's probably fair to suggest that you wouldn't purchase the T260HD to be used solely as a television because you are paying for the computer features – unless, of course, you are bowled over by the T260H's design and convince yourself that you may have the occasional need for a computer display.
Working on the basis that the T260HD is first and foremost a computer display, you'll be disappointed to learn that there are higher specified displays that are more suited to video and gaming. Although the T260HD is perfect for Blu-ray movie playback thanks to its native resolution of 1920×1200 pixels, it's not the brightest at just 300cd/m² (candela per square meter) nor the quickest with a response time of 5 milliseconds (ms). While these specifications certainly aren't bad, both brightness and speed can be bettered quite easily by the likes of BenQ, Dell and ViewSonic. Having said that, you may have to compromise on Full HD, so it's swings and roundabouts…
The T260HD features an embedded tuner that enables you to watch over-the-air standard-definition digital TV broadcasts without buying any additional equipment. And with six image input terminals, you can connect several pieces of digital equipment to the T260HD and use them simultaneously. The only disappointment here is that the T260HD does not support picture-in-picture (PiP), which is very unfortunate given that it is made for working with different inputs at the same time. The contrast between light and dark colours on the screen is what makes images stand out. The bigger the difference between light and dark images, the more vibrant images will appear. With an amazing dynamic contrast ratio of 10,000:1, you'll enjoy sharper image quality that is sure to catch your eye. You'll also make a style statement with Samsung's new Touch of Color design, which features a hint of red naturally blended into the traditional piano black frame.
The T260HD is designed to be extremely efficient and uses up to a third less power than other monitors in its class. The unique SoftPower off function lets you put the monitor in standby mode right away, using just 0.3 watts of power. It also comes with a monitor stand that can tilt up to 20 degrees for optimal viewing and a full-feature remote control. The monitor's speakers reside underneath the screen (neatly hidden within the body of the monitor in order to maintain the clean, fluid lines of the exterior) and provide a total of 6 watts of audio power (3 watts per channel).
Overall Samsung has done a really good job with the T260HD and it's a great way to get the most out of your PC – as well as watch your favourite Full HD movies. The remote control is rather basic and doesn't look as stylish as the display itself (why are these always an afterthought?), and you may soon lose patience with the touch-sensitive power button on the front of the monitor as you're never quite sure you've pressed it hard enough. The T260HD is not the perfect gaming monitor, nor is it the best HDTV on the planet, but it does do both jobs very well and looks great doing it. You can even wall mount it to save space! As long as you don't need PiP, we think you'll be more than happy with this stylish and capable high-definition monitor. Given the price, you can't really ask for more.
Related posts