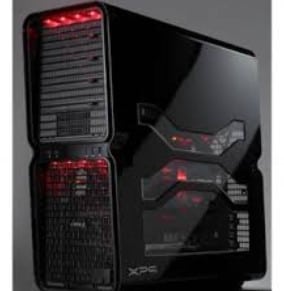 VERDICT
A serious machine that delivers all-round
PROS
Eye-catching case; fast as hell; funky internal & external lighting; ATI CrossfireX- or nVidia SLI-capable motherboard
CONS
Costs & weighs the same as a small house; expensive upgrades; can get noisy
COMPANY
Dell
http://www.dell.co.uk
Dell has got its game on once more (it does so every year or so) with the XPS 730x. Replacing the XPS 730, the highlight of the machine is that it features Intel's spiffy new Core i7 processor, making the XPS 730x one the world's most extreme and overclockable gaming desktops. The downside is that this puppy will cost you at least £2899 – and that's the basic specification!

Intel's Core i7 processor boasts improved physics, greater environmental interactivity, more intelligent AI and an overall boost in the immersive, and a real-to-life experience. With the new Intel QuickPath Architecture, the XPS 730x offers an ATI Radeon 4870 X2 graphics card, and is available with KillerNIC from Bigfoot, a gaming network card that offers smoother, more responsive online game play during intense action. There's also the usual LED lighting you find in such machines, an anodised aluminium case design, multiple single and dual hard drive options, with support for RAID 1, 0, and 1+0 up to 2TB and up to 6GB of triple-channel DDR3 memory.
Right out of the box, the XPS 730x is tuned to take on the toughest games in the market. Want to push the limits even farther? The XPS 730x gives you the BIOS level tools to dial in maximum performance and squeeze every drop of power out of your rig. All the while Alienware AlienFX technology, optional X-panels and anodised finishes guarantee you'll look good getting the job done. The XPS 730x is even available with Dell's patented two-stage H2C cooling system to keep your overclocked CPU and chipset cool and collected. The innovative H2C hybrid solution combines a liquid radiator, a thermoelectric cooling module and control circuitry, which optimises CPU cooling with minimal power consumption.
The XPS 730x puts more control in your hands with the new XPS Thermal Monitor utility. Factory installed on all XPS 730x systems, the XPS Thermal Monitor utility gives you the ability to edit and profile the chassis fan settings so you can fine tune your thermal performance. You can also customise your lighting with Alienware's cutting-edge AlienFX software. Designed from the ground up to support the XPS 730x platform, AlienFX gives you an intuitive interface to set each of the five chassis LED zones to one of 16 colours. Millions of unique colour combinations are at your fingertips. 'Theatre lighting' is a nice new feature: The interior lights automatically go on when you open the side panel, which saves you from having to hold up a light when adding cards or memory. The theatre lighting is battery operated, so it functions even if the system is unplugged.
Available in aluminium (silver), blue, or red, the base system (£2899) includes an Intel Core i7 processor Extreme Edition 965 processor (3.20GHz, 8MB L2 cache, 6.4GT/s), 1-kilowatt power supply, 3GB (1067MHz) tri-channel DDR3 SDRAM, 1GB nVidia GeForce GTX 280 graphics card, 640GB Serial ATA (7200rpm) storage (two 320GB drives), Creative Soundblaster X-Fi Titanium audio card, 16X DVD+/- RW drive, 19-in-1 media card reader with Bluetooth, and Windows Vista SP1 Home Premium (64-bit). There's room for up to two more PCIe graphics cards (in addition to the included single Nvidia GeForce GTX 280), one PCIe x1 card, and an additional PCI card.
If you've just won the lottery or your divorce has finally come through, you can bump the memory up to a maximum of 6GB (three 2GB modules), increase storage to 2TB (two 7200rpm, 1TB drives), as well as request a 6x Blu-ray reader and TV tuner. Sadly you can't specify nVidia's latest GeForce 285 or 295 graphics cards – at least at the moment – but you can go for ATI's 2GB Radeon HD 4870 X2 graphics card because the motherboard supports both ATI CrossfireX or nVidia SLI. The downside is that including all the bells and whistles will set you back an astonishing £3448 – and that's without a monitor!
All this hardware guarantees you premium out-of-the-box performance – the XPS 730x is the fastest machine we've ever tested. Not only does the XPS 730x give you amazing frame rates when used in SLI or CrossFire, but the stunning design and user-friendly gaming features help to elevate it above other machine. Sadly it is expensive compared to some Core i7 systems from other manufacturers, but if your pockets are deep and you want a powerhouse, the XPS 730x is a fantastic machine. If you really do have money to burn, check out Alienware's mental ALX X-58, which starts at £3349 but can be pimped up £5713. Recession? What recession?
Related posts