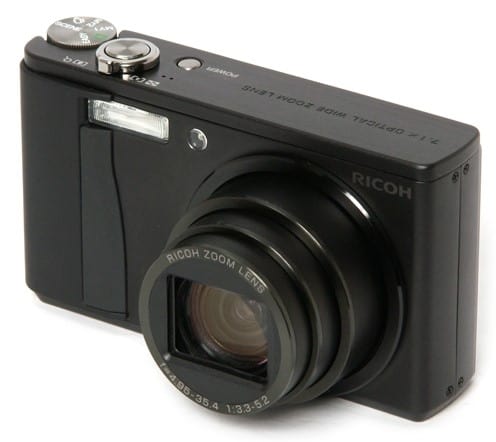 VERDICT
A lovely camera to use, but sadly the pictures that it produces are only average
PROS
Extremely rugged; good-sized grip area; optical image stabilisation; face recognition; lots of in-camera editing options
CONS
Ugly box-like appearance; average image quality; flimsy lens cover
COMPANY
Ricoh
http://www.ricohpmmc.com
Ricoh's R10 is a very interesting proposition. Once you've gotten over the fact that it looks like a piece of crap, this relatively bulky (102x58x26mm, 168g) camera packs a ton of features into a relatively low asking price. In addition to its 7.1x optical wide-angle zoom lens (28-200mm, 35mm film equivalent), this digital camera features a huge 3-inch (460,000-pixel) display, an electronic level, and other relatively advanced capabilities for inexperienced photographers to grow in. Succeeding the R8 (launched March, 2008), which featured a 7.1x optical wide-angle zoom lens, a 10-Megapixel (3648×2736 pixels) CCD, Smooth Imaging Engine III, and a body combining operability and portability, the R8 inherits many distinctive characteristics from its predecessor (including an effective 10-Megapixel CCD), but adds an electronic level and easier-to-hold grip to further increase ease of use and comfort factor.

Ricoh's R10 (around £170) can shoot JPEG stills and AVI movies, and has an internal memory space of 54MB. That's fairly generous considering you can fit about 24 full-size, 10-Megapixel JPEGs on the camera without the need for an additional SD memory card. The new electronic level (think spirit level) is convenient for keeping the camera level when shooting landscapes, buildings, and other scenes where tilting of the subject is a concern. The level indicator shown on the LCD display makes it possible to confirm that the image is level while shooting. It is also possible to check whether the image is level using the level sound setting. When this setting is on, a level sound is continually emitted at a set interval if the camera is level. The acceleration sensor also makes it easier to view images on the LCD display by automatically rotating the images to horizontal or vertical during playback.
Ricoh's original double retracting lens system has made it possible to mount a 7.1x optical wide-angle zoom lens on a body measuring only 22.6 mm at its thinnest point. This lens can handle a wide range of conditions from wide-angle shooting of both expansive landscapes and tight indoor scenes (with limited space between camera and subject) to high-impact telephoto shooting. With the step zoom function, it is possible to change the optical zoom magnification in seven fixed steps (28mm, 35mm, 50mm, 85mm, 105mm, 135mm, and 200mm equivalent). The step zoom can be easily switched on and off by assigning it to the new 'Fn' (function) button located at the back of the camera. The Fn button makes it possible to switch selected settings with just one push. Custom defining a frequently used setting, such as target shift or AE lock for auto shooting mode, make it possible to quickly switch functions by just pushing the Fn button during shooting.
Another neat feature is the image flag function which facilitates quick display of desired images from among the many photographs taken. With the image flag function, it is possible to flag up to three image files for quick display from among the images in the camera. When travelling, this function is convenient for calling up images shot for future reference (for example, photographs of maps and time tables). By pushing the Fn button when in Easy Shooting mode (perfect for newbies), it is possible to specify backlight compensation, which is convenient to use for backlit scenes.
Even when shooting in high-contrast situations, the camera can use an auto level compensation function to automatically adjust tones to achieve an appropriate level of brightness in the recorded image while reducing areas that are overly bright or dark. Nonetheless, the flash light intensity adjustment function makes it possible to adjust light intensity from -2.0 EV to +2.0 EV in 1/3 EV steps, and when you want to take multiple pictures using the self timer, the custom self-timer function can be used to specify the number of pictures to be taken (1 to 10) and the shooting interval (5 to 10 sec.).
You can get as close to the subject as 1cm at maximum wide angle and 25cm at maximum telephoto in Macro mode. And with face recognition the camera automatically identifies faces in a scene and optimises focus, exposure, and white balance. And for all those who like to get snapping after a drink or two, the R10 contains Ricoh's CCD-shift image stabiliser function, which compensates for camera shake when it is detected. This help to reduce the blurring that tends to occur in situations such as telephoto and macro photography. More advanced photographers will also love the in-camera editing options, including getting rid of red-eye, cropping and adjusting the contrast. You can even consult an onscreen histogram to make accurate alterations to the picture balance, to reset the white point and to see the effect in different alpha channels.
Ricoh's R10 is an extremely rugged digital camera that makes shooting stills and videos relatively painless. It might look like it has been designed by a 5-year-old, but it takes well-balanced shots that are crisp and colourful thanks to the 10-Megaxpixel lens. Sure they're not up scratch for advanced photographers, but general consumers should be satisfied. A 7.1x optical wide-angle zoom is better than most in this price range too, as is the level of in-camera editing controls. There's not much in the way of advanced exposure controls, but the R10 is very much targeted a beginners and those who just want to point and shoot. It's weighty enough to feel like a 'proper' camera too. Ricoh's not about to dethrone Canon or Nikon (or Olympus, Panasonic or Sony), but with the R10 the company has produced a camera that's good value for money.
Related posts