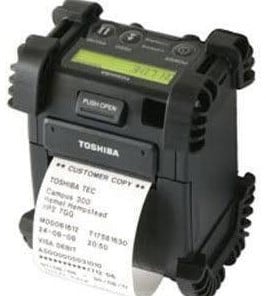 VERDICT
Cool black portable thermal printer that's built to survive Armageddon
PROS
Contemporary rugged design; backlit LCD; quick 'peel & present' labelling; simple media loading; USB, Bluetooth & wireless LAN
CONS
No built-in keypad; confusing menu system
COMPANY
Toshiba TEC
http://www.toshibatec-eu.com
If you work in mobile applications (retail, warehouse and logistics, hospitality and healthcare etc) and are looking for a robust and reliable printer for outputting 2-inch labels and receipts on the move, perhaps you should take a closer look at Toshiba TEC's B-EP2 series. The Auto ID specialist's latest portable printer is an incredibly robust – though pricey – monochrome thermal model that provides a range of wired and wireless connectivity options and battery-powered autonomy.

Building on the B-SP2D series, the B-EP2 (entry-level B-EP2DL-GH20-QM-R model reviewed here, £499) meets all the requirements necessary for integration into legacy Toshiba TEC systems, therefore protecting your previous investments in printers. Ideal for most portable applications, the B-EP2 (88x65x119mm, 480g) offers USB and infrared interfaces as standard and links relatively quickly with other handheld devices. Along with built-in Bluetooth connectivity and 802.11b/g on specific models, the B-SP2D is even suitable for portable POS and remote transaction processing applications. And with added benefit of coreless media, the B-EP2 is good for the environment too!
With mobility and efficiency paramount concerns, Toshiba TEC said it concentrated on designing a contemporary portable printer that is compact and light yet rugged enough to meet the needs of today's demanding mobile applications – the printer passed drop tests at heights of up to 1.5 meters on concrete. We'd have to agree – the B-SP2D's military design is fantastic. Maybe it's just us, but the awesome design just made us want to walk around and print labels for anything and everything! We also had fun pretending the B-SP2D was a sticky bomb, but that's another story altogether…
The B-EP2 is Windows compatible, is driven by a 32-bit flash-based CPU and is equipped with a backlit LCD screen. The printer is also unique with its ability to allow users and administrators to change the settings and configurations directly on the device. The range is also powered by lightweight and long-lasting rechargeable (AC adapter included) Lithium-Ion battery (7.4V, 2600mAh) for an extended number of printable labels.
It all sounds a bit proprietary and complicated, and it is really. The B-EP2's display is a single-line affair (displays label counter, battery level, wireless signal strength and error messages), and you need the patience of a saint and mind of a genius to understand how to navigate the menu using the three hardware buttons. There is no built-in keypad either, so you can't design labels on the spot without first hooking the printer up to a compatible computer, PDA or smartphone. The label printer speaks many programming languages and is designed to plug and play without any software changes, whether it is a Toshiba printer using TPCL or any make using BCI (Basic Command Interpreter). It can handle inputs from other peripherals such as scales and scanners. The label printer also supports ESC/POS language.
Loading single rolls with a capacity of 400 labels of 50mm length is a snap, however, as is swapping out the battery. The B-EP2 supports a continuous strip, whereby every printed label generates the automatic issuing of the next label, increasing the overall throughput. For added mobility and off-the-scale geek appeal, an integrated belt clip, Carry Case or Shoulder Strap are available as optional extras. Finally, for applications on the road there is a cigarette lighter charging adapter (12V input) for the B-EP2 and in the warehouse, there's a DC adapter (48V input) to charge in a forklift.
Designed for labelling on the shop floor, printing prescriptions on hospital wards, issuing tickets in the street or barcoding in the warehouse, and other such work-related tasks, the B-EP2 is a total overkill for individuals at home wanting to print eBay postage labels. Further evidence is obvious with the B-EP2's rugged rubber corners that help to protect your investment. Toshiba TEC didn't stop with the padded corners – it used more rubber on the external ports to protect them from any spills. Even strict IP54 enclosure standards against dust and water ingress are surpassed with the optional carry case. As you can tell, the B-EP2 isn't designed for a life on your desk. If you have a need for this type of printer, the B-EP2 is extremely well built and outputs good quality labels and receipts. It's a shame there is no keypad for small-business owners not wanting the complications involved with having to connect a computer or other mobile device.
Related posts