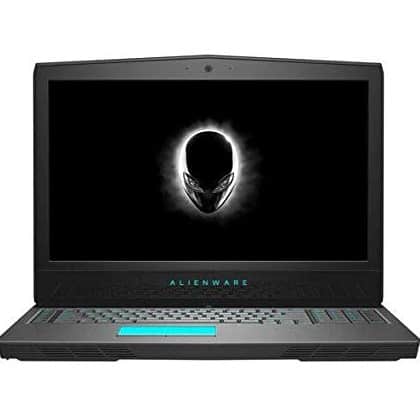 VERDICT
Solid mix of price & performance, but optional extras make it ludicrously expensive
PROS
Top build quality; tons of cool features; lush display; highly configurable; multi-GPU technology; speedy DDR3 memory; up to 1TB storage; vertical tilt Web camera
CONS
5kg – ouch!; pants battery life; no DVI
COMPANY
Alienware
http://www.alienware.co.uk
Laptops designed for gamers can run upwards of £3000, but most people don't want to remortgage their house to be able to play games on the move. Desktop PCs will always be best for gaming, but when you need to go on the road there's nothing quite a sweet as having a powerful machine to hand. Before getting your chequebook out you should bear in mind that a dedicated gaming laptop is a different beast compared to a general purpose multimedia laptop – regardless what the bloke at PC World or Currys tells you! There is no way that these types of machines can come close to competing with high-end models offered by the likes of Alienware, ASUS or Dell.

Alienware knows gaming hardware better than most. Now officially Dell's premier high-performance PC gaming brand, Alienware's all-new M17 (45x397x299mm, 5kg) laptop continues the company's strong tradition of pushing gaming performance limits through state of the art technology but without busting the bank. We'd never thought we would have seen the day, but the M17 can be had from as 'little' as £1199 – and that's including a 2.26GHz Intel Core 2 Duo processor (upgradable to Quad Core 2 Extreme), dual ATI Mobility Radeon HD 3870s, 3GB of DDR3 memory (upgradable to 4GB), 160GB storage (supports up to 1TB using two 500GB 7200rpm drives) and a 1920×1200 high-definition LCD (1440×900 screen is also available for £200 less). An 8x dual-layer burner (DVD±RW, CD-RW) comes as standard, but if you're feeling flush you can get a dual-layer Blu-ray Disc Reader (BD-ROM, DVD±RW, CD-RW) for £169. Sweet!
Available in the U.S. and Europe, Alienware's Vista-powered M17 is powered by the world's first mobile quad-core processor, Intel's Core 2 Extreme QX9300, and is Alienware's first laptop with ATI's CrossFireX multi-GPU technology, thanks to the inclusion of dual Mobility Radeon HD 3870 cards. Using ATI graphics cards compared to ludicrously expensive nVidia parts is the main reason the M17 is so affordable, yet they still have full DirectX 10.1 support for the latest next-generation games and produce frame rates up to 80% higher than single GPU solutions.
The M17 has got its specifications sorted, but it's the machine's finishing touches that help raise it above the others. For starters, you can configure your M17 with either Alienware's Skullcap or Ripley case designs. The otherworldly gills of the Skullcap design are synonymous with the aggressive, boundary-pushing Alienware attitude, while the sleek Ripley design reveals the evolution of Alienware architecture with a more subtle, sophisticated profile. The matte black, soft-touch Stealth Black finish of the M17 also has you covered when admirers come in for a closer look. Not only is Stealth Black all but impervious to fingerprints, it also resists most minor scratches, helping to keep the laptop as clean as they day you unboxed it.
The fun doesn't stop there. The M17's 2.0-Megapixel Web camera lets you record relatively high-quality video and audio for just about anything from video blog posts to video messages, and with the camera's vertical tilt you can get the right angle without having to adjust the machine's lid. The dual digital microphone array picks up good quality audio, and AlienSense facial recognition software captures unique biometric data to confirm your identity and log you in quickly and securely. At time of purchase you can opt for a choice between exclusive Alienware illuminated and non-illuminated keyboards, as well as customise the touchpad's sensitivity with the bundled AlienTouch software. Virtual Scrolling enables vertical and horizontal scrolling with just a brush of your finger. Private files can be keep private with the enhanced biometric security of a built-in fingerprint reader, and Instant Access Media Buttons let you launch an Internet browser, e-mail application, Windows Media Player and Power DVD instantly.
Connectivity is no problem either. The M17 has three Hi-speed USB 2.0 ports, one eSATA/USB 2.0 Combo (2-in-1 port), ExpressCard Slot, IEEE 1394a (4-pin) port, Gigabit Ethernet, 7-in-1 media card reader (SD/MS/MSPRO/RS-MMC/MMC), auto-sensing headphone jack, auto-sensing microphone jack, and TOSlink digital audio out. There's also a HDMI 1.3b connector and analogue VGA connector, but sadly there is no DVI port. Bluetooth 2.1 is integrated as standard, and there's also 802.11a/b/g/n. We love the old-time analogue dial for cranking the audio.
By incorporating the all-out performance of CrossFireX graphics and quad-core processing, the M17 delivers an impressive feature set at an aggressive price point. Gaming is where the M17 shines, and it makes an able job of it with two Mobility Radeon HD 3870 GPUs. As a result, this monstrous desktop replacement runs modern games at respectable frame rates. Predictably, it goes without saying that M17's battery lasts for around 90 minutes, so it'll spend most of its life tethered to a wall. The M17 is definitely worth considering if you're a gamer on a budget, but get carried away with the aspirational options and you'll easily walk away with a bill for £3450.
Related posts