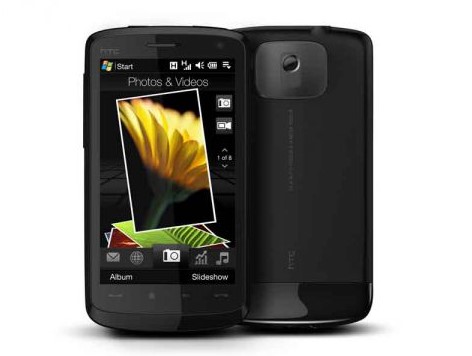 VERDICT
This slick beauty gives Apple's iPhone stiff competition but ultimately falls short
PROS
Far more powerful than an iPhone; gorgeous display; HSDPA; Wi-Fi; Bluetooth; accelerometer; excellent battery life
CONS
Windows Mobile 6.1 Professional is crap – who wants to use a stylus?
COMPANY
HTC
http://www.htc.com/tw
HTC rolls out more phones per year than we have hot dinners. Always pampering us with nothing but the latest in mobile communication technology, HTC products unfortunately tend to be bit on the ugly side. The company's latest, however, bucks the trend and is almost good enough to knock Apple's crown off. We say almost however, as any phone powered by Microsoft's monstrosity of an operating system (Windows Mobile) is never going to make it in the mass market.

Powered by Windows Mobile 6.1 Professional <sigh!>, the GSM/GPRS/EDGE/HSDPA-enabled Touch HD (Best Current Price: £548) is an entertainment focused mobile handset that makes multimedia on the move a reality. Integrating a beautiful 3.8-inch widescreen 480×800 display that is brighter, crisper and almost twice the resolution of the iPhone, the Touch HD is perfect for playing back video, watching photo slideshows, browsing the Internet, and managing your music. It also comes with a standard 3.5mm audio jack so you can use your favourite headphones, in addition to a fantastic 5-Megapixel camera with autofocus that captures great quality shots and short movies. There's even a second front-facing camera for video conferencing and sending mug shots to your friends and family.
HTC's Touch HD (115x63x12mm, 146g) isn't all front either. Under the hood the handset is one of the most powerful on the market – if a little too similar to the company's Touch Diamond and Touch Pro. The Qualcomm MSM7201a processor runs at a supersonic speed of 528MHz, and there's 512MB flash and 288MB RAM for storing your data. For additional storage microSD card (SDHC capable) can be used, and for connecting to other devices and networks there's Bluetooth 2.0 with EDR and 802.11b/g Wi-Fi. What's also sweet is the inclusion of assisted GPS, an accelerometer that rotates the screen when you turn the phone around in your hand, and an FM radio.
HTC's TouchFLO 3D user interface provides quick and easy access to your contacts, messages and content. You can navigate the phone using your finger, but sadly some settings are just too fiddly to operate without using the bundled stylus – blame Windows Mobile 6.1! Browsing the Internet is great thanks to the crystal clear display and Opera Mobile 9.5's double tap zoom, which also adds a zoom bar along the bottom of the screen so can read headlines and other text while zoomed right out. Sadly, the Touch HD still isn't as slick to use as the iPhone and it certainly doesn't have the chic appeal.
The Touch HD is a powerhouse of a phone, but its features and performance will only be appreciated by tech-heads. But as much as we hate Windows Mobile, the Touch HD is the best smartphone of its kind by a mile. You also get the added benefit of running the full version of Office Mobile, which allows you to create, edit and read Office 2007 documents. Also at your disposal is Exchange and POP3 e-mail support, along with Windows Mobile media player which supports various codecs. Plus, battery life is impressive and should last for around five days. If you're a Windows Mobile fan and don't mind using a stylus every now and then, we thoroughly recommend the Touch HD. For those of us who simply care about elegance, simplicity and funky applications, Apple's iPhone reigns supreme. </sigh!>
Related posts