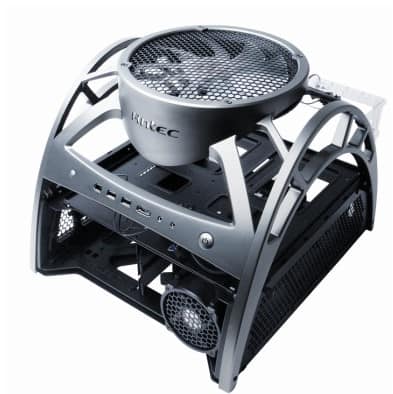 VERDICT
Love it or hate it, it's a well built & unique chassis ideal for those looking for something different from the norm
PROS
Brilliant design; great airflow; slide-out motherboard tray; 3-way SLI ready
CONS
System components are vulnerable; dust magnet; not ideal for busy households
COMPANY
Antec
http://www.antec.com/ec/
PC gamers and build-your-own enthusiasts are always looking for the latest high-performance components, including high usability and unique design. Antec's Skeleton (£110) is the latest example of the commitment the U.S.-based company has to being different. The Skeleton is an open-air enclosure that looks like nothing else on the planet. Designed to provide unprecedented airflow to any system, this badboy has to be one of the most amazing cases on the market. Okay, so at first it looks like you don't get much for your money (there's hardly anything to it!), but the cooling capacities and top-notch convenience features will help you to build a very special system.

The Skeleton (376x419x33mm, 7kg) features an open frame metallic silver design that allows for unprecedented airflow. Cooling is further enhanced by a front-mounted 92mm fan that cools your hard drives, and a huge 250mm three-speed fan with multicolour LED customisation – can be set to colour oscillation, one-colour lighting, off and more (nine settings total). The LED switch is located next to the fan speed switch at the top rear of the case, whereas the fan speed switch is located at the top rear of the case near the fan (default speed is Low). If you're looking for an utterly unique chassis, you've come to the right place. Factor in the layered component trays for top-notch convenience, as well as the rackmount quality side rails, and you have a case worthy of your pennies.
But it's not all rosy. Most significantly, all your system components are vulnerable to theft, making the Skeleton a bad choice for LAN parties. Secondly, you'll be forever dusting your components because there aren't any panels or cover that a regular chassis provides. And then there's the whole issue of accidents, like spilling drinks or food over the case. Oh, and it highly recommend that you keep your pets or children away from it.
This enclosure consists of two major parts – the Component Tray and the Frame. The Component Tray is the main structure holding motherboard, 5.25-inch devices, hard disks and power supply. It can slide in and out from the Frame for component installation. The Skeleton comes without a power supply. Make sure you choose a power supply that is compatible with your computer components. Antec recommends its Signature, TruePower Quattro, or NeoPower power supplies for the latest ATX specification compliance, but of course you're free to choose whichever unit you like. Power supplies equipped with an 80mm fan will draw air through the Skeleton and power supply more effectively. However, if using a power supply with a 120mm fan, you need to ensure that the power supply fan will face the top of the case when installed.
With a 0.8mm cold rolled steel-reinforced plastic frame and rackmount quality side rails, this enclosure emphasises durability. The enclosure fits Mini ITX, MicroATX and Standard ATX motherboards, and for enhanced flexibility in system integration, it boasts a layered tray design and four quick release drive bays, including two 5.25-inch and two 3.5-inch bays as well as four optional 3.5-inch side panel-mounting plates. Seven expansion slots contain room for up to three 11-inch video cards in SLI configuration, enabling gamers and high-performance enthusiasts to get the most from their high-end machines. The structure allows super easy routing of cables and you can wrap things around it for a very clean installation. Convenient front-mounted USB 2.0 (x2), FireWire and eSATA ports allow for easy multimedia connections. Additionally, there are headphone and microphone jacks in the front, compatible with AC97' and HDA.
Antec's Skeleton represents the growing need for PC enthusiasts to have a quick and easy way to swap out components while maintaining cooling. A perfect case for those that never seem to get around to putting their machine's cover back on, it looks great and is extremely easy to use. Its free-form open frame system lets you do pretty much what you like too – such as littering the chassis with six hard drives. For the regular PC user in a busy household it's better to protect your components and shield yourself from their noise with a good mid-tower, but for the power user that constantly fiddles around swapping out parts, there's nothing else like it. The Skeleton is guaranteed to polarise opinions.
Related posts