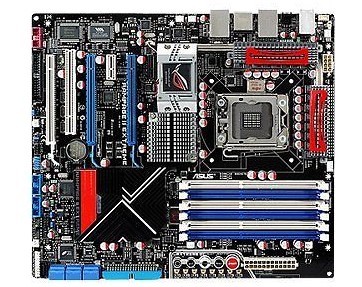 VERDICT
The best gaming motherboard on the planet
PROS
Solid build quality; great looks; excellent layout; fantastic stability at good overclocks
CONS
Not the most accommodating for expansion
COMPANY
ASUS
http://www.asus.com
The motherboard (otherwise known as a mainboard) is the heart of the whole computer system. It is the part that connects all the other parts together and makes sure they run smoothly. As such, choosing the best motherboard for a specific need (i.e. gaming, workstation, server etc) is the most important task that you need to do when building a computer from scratch.

The most important consideration you need to decide is whether to for a motherboard that supports Intel or AMD processors. Sadly, there's no one board that accommodates both. In addition, some of the older motherboards do not support the latest dual- and quad-core processors (even though they use the same socket), SLI/Crossfire-ready graphics cards, SATA-2 storage devices, or even DDR3 memory. And if you intend to overclock your CPU for ultimate performance, you need to get a motherboard that allows you to change the FSB speed and CPU voltage in small increments. You might want also want to consider extra features such as additional USB 2.0 ports, FireWire, integrated Gigabit LAN and a front-panel LED.
ASUS has been making high-end motherboards for years, and it shows with the Republic of Gamers (ROG) Rampage II Extreme (Best Current Price: £309). Currently the company's most advanced and highest performing enthusiast motherboard, the Intel X58-based Rampage II Extreme keeps up with ASUS's commitment to produce cutting-edge products for the serious gaming and overclocking nutters. The ATX-sized motherboard incorporates the latest innovations and components into its architecture, delivering blistering performance through its support for the new range of Intel processors, DDR3 memory and multi-GPU technologies (three-way SLI and CrossFireX). Rounding off the already stellar package is the inclusion of Creative's awesome SupremeFX X-Fi sound card, which utilises established X-Fi technologies such as CMSS-3D and EAX to deliver impressive multichannel audio both during gaming, movie and audio playback.
To enable you to push the capabilities of the new platform to the limit, the Rampage II Extreme features ROG Extreme Engine, a multi-phase power management system – 16 phases for the CPU and three phases each for QPI/DRAM, the Northbridge and memory – with premium Multilayer type Polymer Capacitors (ML Caps) that keep the power supply stable even under the most demanding loads. If that's not enough, the Rampage II Extreme also features TweakIt and ProbeIt, tools that enable you to adjust and monitor frequency and voltage settings directly from the motherboard itself – thus allowing you to coax maximum performance from your system quickly and conveniently.
TweakIt and ProbeIt are an overclocker's wet dream. TweakIt, seen first on the original Rampage Extreme, lets you make real-time changes to your system's core frequency, voltage and other parameters using the joystick-like control on the motherboard itself used in conjunction with a small LED poster (displays system information during POST along with voltage, temperature, or fan speed data). This is useful for huge overclocks, where CPU speeds in excess of 5GHz can prevent Windows from booting. At no point does software come into play because the tweaking is completely hardware-based. ProbeIt, on the other hand, lets you to measure the true voltage reaching each component, including the CPU, DRAM, X58 chipset and Southbridge. There are eight sets of detection points in total. The package also includes two small probe attachments for a multimeter.
ASUS includes three PCI Express x1 slots (one is only compatible with the supplied audio card), two x16 PCIe 2.0 slots (dual x16 or x16/x8/x8), and two PCI 2.2 slots. CrossFire and SLI are supported, but if you utilise double-slot GPU cards, the second PCIe x1 slot and the PCI slot will be physically unavailable with a CrossFire or SLI setup. The Rampage II Extreme is also fitted with EIDE and floppy connectors, two USB 2.0 headers, one FireWire header, seven S-ATA II ports and no fewer than seven additional fan headers. The back I/O block houses four USB 2.0 ports, two Gigabit LAN ports, one FireWire, one eSATA and one PS/2 port that can accept either a mouse or keyboard.
With support for the latest Intel chipset and Core i7 processors, along with the additional overclocking headroom afforded by ROG Extreme Engine, the sexy-looking (just check out the red, black and dark metallic grey cooling) Rampage II Extreme is that fastest and most customisable motherboard on the planet. The downside is that it costs almost the same as a whole computer. If you're not out to beat the overclocking world record, motherboards such as MSI's Eclipse (around £280) and ASUS' P6T Deluxe (Best Current Price: £249) are much better value for everyday use, plus they come with more expansion slots.
Related posts