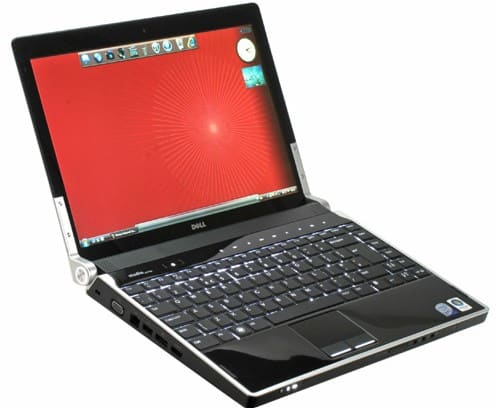 VERDICT
Blending power with elegance, the Studio XPS 13 is an excellent mobile laptop
PROS
Gorgeous design; thin & light; backlit keyboard; good storage options; HDMI & DisplayPort; optional Hybrid SLI & 3G
CONS
Gets hot very quickly; no remote control
COMPANY
Dell
http://www.dell.co.uk
The XPS series is a high-end line of multimedia computers sold by Dell. The 'Xtreme Performance System' moniker dates back to 1993 and carries with it a legacy of cutting-edge design and technology. Years later, Dell created the Studio range, a trendier alternative to its dull-as-dishwater Inspiron series. Dell then went and baffled everyone by launching the Studio XPS line, an alternative to the Studio and XPS ranges. Confused? We are.

The Studio XPS 13 (from £799) and Studio XPS 16 (also from £799) laptops are the first Studio laptops to bear the XPS high-performance designation. Fresh out of Dell's innovative industrial design labs these premium laptops combine state-of-the-art technology and elegant design to delight discerning followers of fashion and technology enthusiasts alike. Only Apple fanboys will disagree, but we all know they have a chip on their shoulders!
Similar to the Studio XPS 16 but trimmed down into a 13.3-inch WXGA (1280×800) screen, the Studio XPS 13 looks amazing and has an illuminated QWERTY keyboard. That's not all – this badboy packs leather accents on the lid and is available in either Piano Black or Silver. Sweet! What's particularly special about the Studio XPS 13 is that the screen doesn't have a protruding bezel surrounding it – it's entirely finished in edge-to-edge plastic, like you get on a MacBook. The keyboard and mouse selector buttons are backlit too, which makes using this laptop in dimly lit rooms a doddle.
The 2.19kg Studio XPS 13 offers digital nomads the choice of conserving battery life or boosting performance with the optional discrete 256MB nVidia GeForce 9500M with Hybrid SLI technology as well as a motherboard-integrated 9400M chip (base system comes with a GeForce 9400M chip only). You can choose to boost performance for playing games or watching high definition videos by enabling a discrete graphics processor and graphics memory, or can extend battery life by switching to the integrated graphics solution, which is better for e-mail, browsing the Internet and listening to music.
Other core specifications include a 13.3-inch WXGA CCFL display with TrueLife (white LED screen with TrueLife costs extra), 2.26GHz Intel Core 2 Duo P8400 processor (upgradable to a 2.53GHz P9500), 3GB of DDR3 SDRAM (upgradable to 4GB), 250GB (7200rpm) SATA hard disk drive (upgradable to a 500GB 5400rpm drive or 128GB Solid State Drive), internal slot-loading DVD+/-RW drive, and Windows Vista Home Premium operating system (Vista Ultimate is available). A primary 6-cell (56WHr) Lithium-Ion battery is also included in price and is good for around 3.5 hours, but no carrying case is supplied – a slip case doesn't count cheapskates!
There is a good selection of connectivity ports on the Studio XPS 13. It comes with analogue D-Sub, HDMI and DisplayPort video outputs, 54mm ExpressCard slot, microphone and twin headphone sockets (for sharing with a friend), and two USB ports, one of which doubles as an increasingly popular eSATA port. The Studio XPS 13 also has 802.11b/g/n Wi-Fi as standard, Gigabit Ethernet and Bluetooth. For an extra £98, Dell will let you install your own SIM card beneath the battery, enabling you to access the Internet anywhere there is a 3G cellular coverage. The package is rounded off with a 2-Megapixel Web camera.
The Studio XPS 13's blend of power, poise and portability is more than enough to tempt. Beyond the sterling build and fine design the keyboard is comfortable to type upon – there's plenty of travel and a soft but positive action to each key – and the display provides even brightness. Colour reproduction isn't amazing, but the wide viewing angles and crispness is great is everyday use. Plus, should you find that native resolution too limiting you can always hook up a display to the VGA, HDMI or DisplayPort outputs. Our biggest criticism is that the Studio XPS 13's metallic underside heats up rapidly, which is a problem for our male readers wanting children. This wasn't enough to put us off and we highly recommend the Studio XPS 13.
Related posts