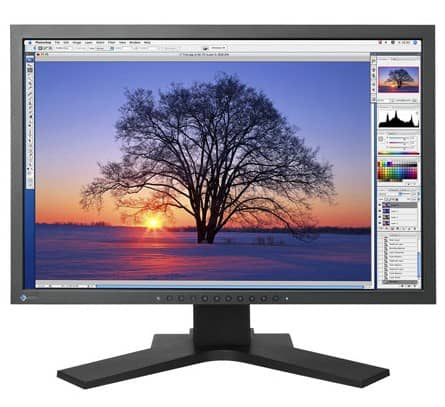 VERDICT
A wide gamut monitor that's brilliant for high-end graphics work & digital photography
PROS
Stunning image quality; hardware calibration; dual DVI-I; monitor hood; HDCP support
CONS
Expensive; not that bright; no HDMI input
COMPANY
EIZO
http://www.eizo.co.uk
With a wide colour gamut and 12-bit hardware calibration, the ColorEdge CG222W is no ordinary computer display. Aimed at high-end graphics work including pre-press, digital photography, video editing, and post-production, the 22-inch ColorEdge CG222W has a professional price of £900 to match – ouch!

The ColorEdge CG222W's (507x521x230mm, 12kg) specifications aren't outrageous (at least compared to the latest HD multimedia monitors), but the quality of the images it produces surpass most. It has a native resolution of 1680×1050 (16:10 aspect ratio), maximum brightness is 250cd/m², contrast ratio is 1000:1, response time is a sluggish 16ms (on/off), and horizontal and vertical viewing angles are 178°. More special is that wide gamut LCD panel reproduces 98% of the sRGB and 92% of the Adobe RGB colour spaces so it can display most colours in a photograph taken in a camera's RGB or Adobe RGB modes.
Since the CG222W offers hardware calibration, the monitor itself is calibrated rather than the computer's graphics board as is the case with software calibration. This helps ensures no colour tones are lost in the calibration process and results in more accurate on-screen colour. EIZO's ColorNavigator calibration software is bundled with the ColorEdge CG222W and allows for setting the target values for brightness, white point, and gamma. ColorNavigator works with a measurement device to directly utilise the monitor's 12-bit look-up table for accurate calibration – and it takes less than five minutes! When calibration is complete the settings can be saved as an ICC profile.
The software also offers black level settings and a paper white measuring function for colour matching between the image on the monitor and the image on the printouts. Supported calibration devices for ColorNavigator include X-Rite's Eye-One Series, DTP94, and DTP94B, and DataColor's Spyder2 and Spyder3. To ensure optimum colours straight out of the box, EIZO calibrates each unit of the ColorEdge CG222W at its factory in Japan. EIZO measures every tone from 0-255 to produce a gamma curve of 2.2 and includes an adjustment certificate in the packaging to verify the results.
To counteract the brightness and chroma uniformity errors that are characteristic of all LCD panels, EIZO has equipped the ColorEdge CG222W with its Digital Uniformity Equalizer (DUE) function. DUE produces a Delta-E difference of three or less across the screen when the monitor leaves the factory, and a certificate validating the uniformity compensation results is included. If you're still not happy with the image settings, the on-screen adjustment controls let you fine tune Clock, Phase, Position, Resolution, Range, Signal Filter, Screen Size (full screen, enlarge, normal), Smoothing (five stages), and Border Intensity. You can also tweak Brightness, Colour, Gamma, Temperature (in 500 K increments from 4000K-10,000K), Saturation, Hue, and Gain. If things go pear shaped, there's a handy Reset option.
Dual DVI-I inputs support both digital and analogue signals from computers, and a USB 2.0 hub with one upstream and two downstream ports are included. Support for high bandwidth digital content protection (HDCP) with a digital signal allows for viewing of content from HDCP-equipped devices, but the monitor disappointingly lacks HDMI input. The stand is height adjustable through an 82mm range and provides 40° tilt and 70° swivel so you can easily set the ideal position. It also pivots 90° for portrait mode viewing. Compatibility with VESA mounting standards allows the monitor to be removed from the stand for mounting on a movable arm or wall bracket. Furthermore, a sensor on the front panel reads ambient light and adjusts the screen brightness to the ideal level (this function is automatically disabled in calibration mode). A monitor hood is provided to shield the screen from ambient light, and a screen cleaner kit also comes as part of the package.
Colour gamut is the ColorEdge CG222W's big selling point, and it almost covers all of AdobeRGB. Visually this display looks uniform, and there were no problems in out tests with viewing angles. Colours and density seemed to stay the same within a reasonable angle of view compared to most other LCDs. We also encountered no problems with shadow detail or banding, and the uniformity of colour and density across the screen was among the best we've ever seen. Beside the offensive asking price and lack of HDMI input, it's hard to find anything to fault the ColorEdge CG222W. Being fastidious, brightness is a bit low compared to other models, it has no speakers, no USB ports on the side of the bezel, and no auto-rotate of the images in the software. There are much more affordable displays that are better at handling your entertainment, gaming and general business needs, but if graphics are your business, the ColorEdge CG222W should be on your shortlist.
Related posts