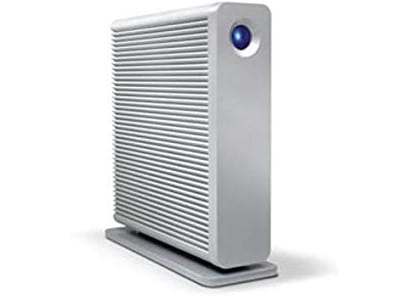 VERDICT
The d2 SAFE effectively guards your sensitive data from getting into the wrong hands
PROS
Triple interface; fingerprint access; holds up to 5 user profiles; Kensington lock slot
CONS
Heavy; no eSATA connectivity
COMPANY
LaCie
http://www.lacie.co.uk
The security of our data is a very important issue nowadays, especially for those using computers at work. This is why an increasing number of manufacturers come up with all sorts of data storage devices that protect the information contained within them via special access systems, especially biometric systems. And since LaCie wants a bigger piece of pie, it has brought the d2 SAFE Hard Drive to market, a device that provides both practical storage capacities of 500GB (Best Current Price: £175) or 1TB (Best Current Price: £222), as well as a very secure means of accessing them.

The d2 SAFE (44x160x173mm, 1.5kg) is designed to keep intruders away from your private data. Sure it's an external hard drive, so in theory anyone can just walk away with it (if you don't take advantage of the chain lock port), but accessing your data is not so easy – the drive has a biometric sensor (128-bit AES hardware encryption). It also comes in LaCie's trusted d2 design, which is made of sturdy aluminium alloy and sports four interfaces – two FireWire 800/FireWire 400/USB 2.0 – for universal access on Windows or Mac OS computers. We'd also really have liked eSATA connectivity, but perhaps we're being greedy.
The massive 1TB capacity is thanks to two 7200rpm HDDs with a cache size of 16MB. It allows you to store millions of documents, around 333,000 hi-res photos, 250,000 MP3s or 358 movies. Up to 10 fingerprints (five users with minimum two prints each) can be registered with personal and customised access privileges such as full access to the disk (read/write) or read-only. Once registered, a simple finger swipe locks and unlocks the disk if you need to step away from your desk for a meeting, to run an errand, or to pop down the pub for a quick pint or two.
The 128-bit AES hardware encryption technology offers the highest level of data security currently available in consumer devices, deemed by the U.S. Government (NSA) in 2003 as secure enough to protect classified information up to the TOP SECRET level. Files are automatically encoded on the d2 SAFE Hard Drive without compromising the performance of super-speedy FireWire 800 (up to 800Mbit/s). By comparison, FireWire 400 performs up to 400Mbit/s and USB transfers data at up to 480Mbit/s. What's also neat is that drive can stand vertically to save desktop space, and includes a Kensington lock for attaching it to a desk to prevent theft (chain available separately). A three-setting switch allows for customised power management.
The volume of confidential data on our computers grows so quickly, so the demand for secure storage like LaCie's d2 SAFE is inevitable. The d2 SAFE is ideal for guarding top secret files or intellectual property, and is particularly useful for small teams working on confidential projects. Not only is the d2 SAFE extremely well designed and manufactured, but it's relatively inexpensive and is one of the few encrypted hard drives suitable for both Macs and PCs. It also performs well against other encrypted portable hard drives. The d2 SAFE's one downside is that it doesn't automatically de-authenticate the drive after a period of time – such as when a user has gone home for the day but failed to lock the drive. We'd like to see some sort of timeout option added here. Otherwise, the drive is sound for home or small-business use.
Related posts