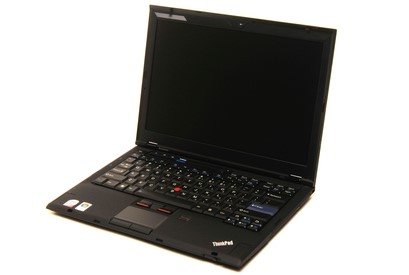 VERDICT
The best Windows-based ultra-portable laptop just got a whole lot better
PROS
Amazing build quality; DisplayPort; integrated 3G; dual pointing devices; full-size keyboard; fingerprint reader; optical drive; second-to-none support; runs completely silently
CONS
Dim display; no FireWire, DVI, PC Card or ExpressCard slots; SSD adds cost
COMPANY
Lenovo
http://www.lenovo.co.uk
As far as we were concerned, Lenovo's ThinkPad X300 was already a stellar ultra-portable Windows-based laptop. Okay, so it has no FireWire or DVI ports and opting for a solid state drive (SSD) added a lot of extra cost, but the machine offered performance, battery life, quality, reliability and functionality at a great price. Just four months on and Lenovo has unveiled its successor, the ThinkPad X301. The slim-and-light system, again seen as a direct competitor to Apple's MacBook Air, offers more storage options in addition to DDR3 memory and the latest low-voltage Intel Core 2 Duo processors.

The ThinkPad X301 measures less than 18.6mm at its thinnest point, has a starting weight as low as 1.41kg, and packs a handful of upgrades, making it a mobile user's wet dream. Not only can you expect up to 20% better performance, as well as improved battery life compared to the ThinkPad X300, but there's now support for both VGA and DisplayPort video output technologies as standard. On the connectivity front, 802.11n, Wi-Fi and 3G/HDSPA are all included, so you'll be able to keep in touch with friends and the office no matter where you are – at least as long as you can get onto some kind of network.
Externally the ThinkPad X301 is identical to the ThinkPad X300, besides the DisplayPort on the rear of the machine of course. The system still features a 13.3-inch LED backlit display, and there's an integrated DVD burner, three USB ports and a removable battery – features all missing from Apple's sexy alternative. While Apple is doing its best to dominate the super-thin laptop market with the gorgeous-but-limited MacBook Air, it doesn't have the experience of producing an all-rounder compared to the likes of Lenovo, Sony, or Toshiba. While the MacBook Air will win over those who simply want a good looking and incredibly thin-and-light system, Lenovo's ThinkPad X301 is much more of a complete portable system.
Designed for today's most demanding road warriors, the Windows Vista Business-based ThinkPad X301 (from £1999) is available in a range of specifications that can be configured for extreme portability, maximum battery life of up to 10 hours, or a balance between the two with a built-in half-height DVD burner. Other multimedia niceties include stereo speakers built into the palm rests, noise-cancelling digital microphone and an integrated 1.3-Megapixel Web camera. The laptop still lacks a slot for PC Cards or ExpressCards, but we're not sure the expansion slot will be missed given the system's excellent connectivity. Let's not get carried away; the ThinkPad X301 is most certainly not a portable multimedia powerhouse and shouldn't be considering for gaming or image/video-editing on the move. This machine strictly means business!
Constructed with carbon and glass fibre, the ThinkPad X301 is one of the most robust systems in its class. Okay, so its wholly-black exterior won't turn you on, but for pitching to clients or working on the move it's perfectly acceptable. Furthermore it includes a 'ThinkPad Roll Cage' to help protect the machine from falls and drops. But perhaps the system's biggest technological leap is its 1.8-inch 64/128GB SSD that provides more than twice the performance of a regular 2.5-inch hard disk drive. And with no moving parts the technology offers more than four times greater shock resistance as well as greater energy efficiency than traditional hard disk drives, helping to increase battery life to around 4 hours. If you need more than 128GB storage, you'll be pleased to know that Lenovo has a new batch of ThinkPad X301s with SATA hard disks.
The model we reviewed was powered by a 1.4GHz Intel Core 2 Duo SU9400 processor, Intel Mobile G M45 Express chipset, 2GB of DDR3 (1067MHz) system memory (upgradable to 3GB), and Intel Mobile GMA 4500 MHD graphics chipset. The new processor helps the ThinkPad X301 realise measurable gains over its predecessor, though it trails similar systems that were built on full-voltage Centrino 2 processors. The system's 13.3-inch LED backlight WXGA+ (1440×900 pixels) display is more energy-efficient performance than most LCD displays, but it is so dim that it make mood lighting jealous. The viewing angles aren't great either, nor is it widescreen, so it's not an ideal machine for watching movies.
The ThinkPad X301 is all about portability. Not only is it built to survive the toils of the daily commute, but its wireless connectivity options are among the best out there. Available as optional extras is the ability to have integrated ultra-wideband/wireless USB, 3G/HSDPA, and WLAN (802.11a/b/g/n). There's even the option to have built-in GPS functionality, though we're not too sure how practical this is on a laptop. Corporates will also love the integrated fingerprint reader, I/O port disablement and 32-byte password protection, which provide a layered security approach to help protect data and unauthorised access. Lenovo faced a great challenge when designing the ThinkPad X301. It had to make things really small without losing key capabilities, such as performance, battery life, quality, reliability and functionality. With thanks to Intel's ever-shrinking Centrino platform Lenovo has created a laptop that is amazingly thin and light, is built like a tank, and offers plenty of configuration options. The system offers all the benefits of its predecessor, plus better performance.
If you are considering Apple's MacBook Air, bear in mind that the ThinkPad X301's extended battery life, Gigabit Ethernet and three USB ports are not available in Apple's system. The MacBook Air is slightly thinner, but both laptops weigh roughly the same. Both also provide a 13.3-inch LED screen, but the ThinkPad X301's runs at a higher resolution (1440×900 compared to 1280×800). Another major drawback with the MacBook Air is that its battery is non-removable – the battery on the ThinkPad X301 can be removed and swapped with a 3- or 6-cell unit instead. The ThinkPad X301 also provides the built-in DVD drive. Apple's MacBook Air will turn more heads than the ThinkPad X301 and make people think you're really rich and creative, but we all know that at the end of the day you'll ultimately be left wanting more. Not so with the ThinkPad X301. As far as we're concerned the ThinkPad X301 is the best overall ultra-portable laptop on the planet if you're looking for one machine that does pretty much everything.
Related posts