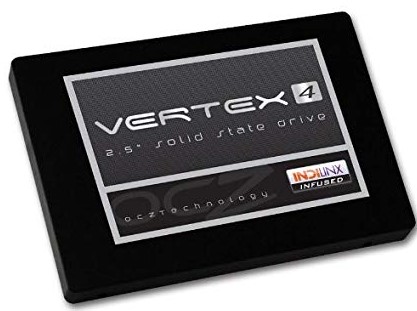 VERDICT
Stunning storage device for speed nuts
PROS
Lightweight; tremendous performance; shock resistant; low power consumption
CONS
Expensive; lacks integrated USB 2.0
COMPANY
OCZ
http://www.ocztechnology.com
The benefits of flash are now becoming available to a new group of consumer electronics customers – computer users. As a drop-in replacement for the traditional mechanical Hard Disk Drive (HDD), the flash-based Solid State Drive (SSD) can be used inside thin and light laptops, ultra-portable, Ultra-Mobile PCs (UMPCs) and even desktop computers. Heck, research by Gartner predicts that by 2010 some 32 million units, representing both consumer and professional laptops, will contain SSDs.

The advantages of solid state hard drives are the antithesis of the problems associated with traditional platter based hard drives. With the absence of moving parts the issues of excessive heat generation and damage due to moving or dropping the drive from small distances are greatly reduced. Flash memory retains its data even after power has been removed, enabling SSD equipped computers to be 'instant on' systems. Since they do not require the spin up time and subsequent high battery drain of spinning platter drives they are perfect for mobile computing. Another benefit is that solid state drives can be manufactured in much thinner sizes allowing them to be installed in laptops with incredibly small form factors.
It therefore makes sense for OCZ, a manufacturer of ultra-high performance memory and computer components, to invite itself to the party. With its latest high-performance SSD, OCZ has gained momentum in pioneering flash storage technology while maintaining a price point that is almost within the reach of consumers. OCZ's Vertex Series is a premium SSD solution that is designed for consumers that require fast, rugged, and reliable solid state storage. The Vertex makes use of OCZ's newest architecture and controller design complete with 64MB of cache to offer faster transfers (blazing 200MB/s read and 160MB/s write speeds) and super overall system response times in a broad range of applications and games. In our tests, the Vertex SSD easily outperformed a RAID-0 set of Western Digital VelociRaptor hard drives!
The Vertex drives feature a durable yet lightweight (100x70x9.3mm, 77g) alloy housing, and because SSDs have no moving parts, the drives are more rugged than traditional hard drives. Designed for ultimate reliability, Vertex SSDs have an excellent 1.5 million hour mean time before failure (MTBF) ensuring peace of mind over the long term. They also deliver the performance and reliability of SSDs at less-price-per-gigabyte than other high speed offerings currently on the market. The series is the result of all the latest breakthroughs in SSD technology, including new architecture and controller design and up to 64MB onboard cache.
Installing the Vertex drive is a snap. Standard 2.5-inch drive bay mounting points are pre-drilled and threaded into the unit, which allow for quick upgrade or addition into any existing laptop or desktop system. Unlike modern desktop computers which use SATA cabling to connect storage drives to a motherboard, nearly all laptops allow a 2.5-inch drive to simply slide directly into a connection bay within the system. In addition to laptops and desktop computers, the Vertex can be utilised for mission-critical backups or high-abuse data systems. One unfortunate omission from the Vertex series was the integrated High-Speed USB 2.0 Mini-B seen on the Core v2 SSD.
Like its predecessors, the Core and Solid series, OCZ continues to make SSDs as an alternative to traditional hard drives in consumer-targeted mobile applications. The Vertex series will not replace any of the company's existing series of SSD's but will complement them at the higher end of the performance spectrum. Ideal for laptops and desktops alike, the Vertex is a premium choice for energy-efficient mobile computing to extend battery life, increase access time, and provide a durable alternative to conventional hard disc drives with shock resistance. The downside is still cost versus capacity: the range starts at 30GB (£99) and maxes out at 250GB (£599). Compared to a regular hard disk drive – which can be purchased for under £100 with a capacity of at least 1TB – you'll have to think long and hard about justifying the outlandish expense. If you're building a cutting-edge super computer or are just a performance junkie wanting unmatched response and speed, get your credit card ready.
Related posts