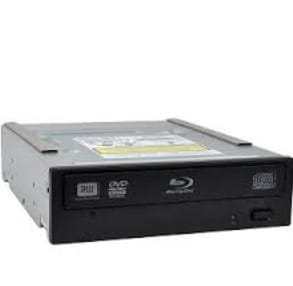 VERDICT
Excellent Blu-ray drive for HD junkies
PROS
Reliable & speedy; good software bundle
CONS
True speed limited by media availability
COMPANY
Pioneer
http://www.pioneer.co.uk
While initial Blu-ray writers were aimed at professional users, Pioneer's BDR-203BK (BK denotes that the product is designed with a black front bezel) has far wider appeal. The growing community of consumers with large digital image, HD-video and music libraries will especially appreciate the greater convenience of higher capacity media. For instance, an average feature length movie of 135 minutes of HD footage requires approximately 19.6GB of storage space. This demands five single-layer DVDs – a job that can be managed by a single BD disc. With digital music, depending on the exact compression format, a 50GB BD disc can store around 12,000 digital tracks.

Pioneer's latest Blu-ray drive is special because it is the first drive of its type to burn Single Layer (25GB SL) and Dual Layer (50GB DL) BD-R discs. Dubbed the BDR-203BK (£220), the internal writer also has 4MB of buffer memory, a SATA interface, and, in addition to 8x for BD-R (SL and DL), it delivers write speeds of up to 2x for BD-RE SL/DL, 16x for DVD-R/+R, 8x for DVD-R DL/+R DL and DVD+RW, 6x for DVD-RW, 5x for DVD-RAM, 32x for CD-R and 24x for CD-RW. In other words, this is one speedy drive. However, at this time the fastest media available is from TDK, and that's rated at four- (rather than six-) speed, which makes it difficult to assess the BDR-203BK's true performance.
The new optical drive features impressive technologies like Ultra DRA (suppress vibration when reading and writing), Limited Equalizer LSI (improves reading reliability) and Multi-Effect Liquid Crystal Tilt Compensator (enhances the read and writing processes by adding correction to the laser beam which compensates for disc impurities), and is bundled with CyberLinks' Blu-Ray Disc Suite 6 software to enable the creation and playback of BD movies and the creation and playback of DVDs and CDs. The BDR-203BK is also compatible with a wide range of Blu-ray, DVD-R/RW, +R/RW, DVD-RAM and CD media types. With strong performance and, features to enhance read/write accuracy, the BDR-203BK should add further momentum to the growing demand for Blu-ray devices.
The availability of the BDR-203BK follows a strong Christmas season with Blu-ray movies in particular selling well both in the U.S. and key European markets. Now Blu-ray is cemented as the next generation storage and media distribution format, sales of Blu-ray content and devices have been strong on the back of greater consumer confidence in the technology. The availability of products such as the BDR-203BK with great flexibility in terms of disc compatibility, extensive DL capacities and faster writing speeds adds to the growing momentum behind Blu-ray.
Due to the limitations of current Blu-ray media you won't be able to push the BDR-203BK's BD-R facilities to its rated specification, but you can rest assured that its performance and reliability is amongst the best out there. If you're a movie junkie or backup a lot of data to disc, the BDR-203BK is one of the best optical drives you can get. CyberLinks' Blu-Ray Disc Suite 6 is also a joy to use.
Related posts