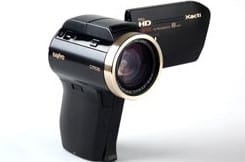 VERDICT
Excellent all-rounder that makes light work of capturing high quality video
PROS
Practical & comfortable design; captures excellent quality video & sound; Full HD; 8MP stills; microphone jack; HDMI output
CONS
No internal memory; electronic image stabilisation is pants; budget for a tripod
COMPANY
Sanyo
http://www.sanyo.co.uk
With the Xacti brand, Sanyo created a new market segment based on the concept of being able to take both high quality videos and photos with one simple, compact camera. The new Xacti range builds on this with the addition of three cameras available in a new horizontal form, expanding the options available while retaining Sanyo's proprietary digital imaging technology. The six new Xacti-branded camcorders are set for launch in the UK in March and are all are billed as 'dual cameras', capable of recording high-definition video as well as taking photos.

At the bottom of the range in terms of specifications are the VPC-TH1 and VPC-CG10, both of which cost under £250 and record video at 720p (1280×720) and 30fps, while at the top of the range is the VPC-HD2000. The VPC-HD2000 (90x113x55mm, 268g) records 1080i interlaced video at 1920×1080 and 60 fields per second (fps), with an option for 1080p as well. It also takes 8-Megapixel still images and has a 3-inch widescreen LCD display, along with a 10x optical zoom lens, digital image stabilisation and a 'face chaser' feature that automatically recognises subjects. It costs a cool £549 but comes with an HDMI output, optional lenses, and an external 2.5mm microphone input, helping to leverage the camcorder above first-generation offerings.
The VPC-HD2000 is truly a benchmark in convenient high definition recorded. Not only does it record crystal clear video and audio, but it offers the latest in zooming technology, with a special 16x advanced zoom function (10x optical zoom for photo). The new-style zoom gives a broader view as it zooms in, meaning more of the scene makes it into the zoom than ever before. Moreover, it has a bright 2.7-inch LCD monitor (230,000 pixels) for capturing and playing back videos and photos, and HDMI output via the supplied docking station (component-out and USB-out are also on the docking station).
Still photos have a sensitivity of ISO 50/100/200/400/800/1600/3200, and there's stabilisation for both video and still modes. Sadly, it's electronic image stabilisation – like Sanyo's Xacti HD1010 – which compared to optical image stabilisation is pants. Optical stabilisation is a complicated process that shifts glass around and Sanyo doesn't know how to do that yet. So, it uses your computer to lose pixels at the edges to make the image look stationary. Not good, but better than nothing. Another bummer with the still camera functionality is that the shutter time is deathly slow – hit the record button and you'll get your snap two days later; well, it seems that long!
The camcorder has no built-in memory, so you'll need to invest in an SD/SDHC memory card (currently available up to 32GB) before you can capture any videos or photos. Once you start snapping, photos are saved as JPEGs (DCF, DPOF, Exif Ver2.2), videos as ISO standard MPEG-4 (AVC/H.264), and audio as AAC (48kHZ sampling). A 16GB memory card is good for around 1h 28m video recording at the highest quality setting, or a massive 41h 19m at the lowest 'Web safe' quality. Alternatively, you'll get around 4020 still shots at the highest quality setting or 11800 at the lowest. In case you're wondering about juice, the VPC-HD2000's Lithium-ion battery (1900mAh) is good for around 355 still shots or 135 minutes video filming.
Sanyo's VPC-HD2000 is a relatively chunky camcorder, but the fact that you can hold it and capture video using just one hand is a blessing – and we're not talking about blue movies! It is simplicity itself to use (the flip-out display even rotates 180 degrees) and captures fantastic quality videos. It even has a hot shoe for adding additional accessories like a directional microphone or external flash. The only major criticism is that the still camera performance isn't as good as a dedicated camera and its form factor lets itself to tripod use, at least if you don't want to hold it all the time – just like the VPC-HD1010 before it, standing the VPC-HD2000 on a flat surface is near impossible. All things considered, this is a great camcorder for consumers (not film makers) wanting to get the best from their HDTVs. It'll be a touch pricey on launch, but give it a couple of months and you'll grab yourself a very sweet camcorder.
Related posts