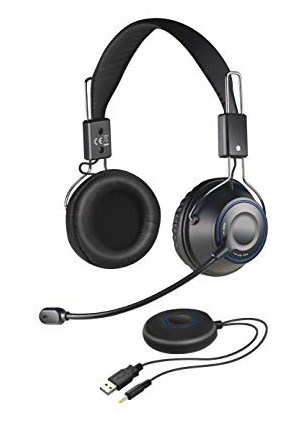 VERDICT
More than good enough for gaming & VoIP calls, but audio is deeply disappointing
PROS
Lightweight design; excellent VoIP performance; wireless (after USB installation)
CONS
Average audio quality; not Mac compatible
COMPANY
Creative
http://uk.europe.creative.com
Early in the New Year Creative launched its new range of 'advanced' gaming headsets. Combining the power of X-Fi audio technology with EAX support and simple USB connectivity, the headsets have been designed specifically for discerning gamers. The range includes the Digital Wireless Gaming Headset HS-1200 reviewed here, the Fatal1ty USB Gaming Headset HS-1000 and the USB Gaming Headset HS-950.

The Digital Wireless Gaming Headset HS-1200 (Best Current Price: £64.07), like the other two, features Creative's X-Fi (for 'Extreme Fidelity') technology for super three-dimensional surround sound – a cool feature for pinpointing your enemies in games. And with fuss-free USB connectivity you can start playing in moments, while cushioned earpieces ensure hours of comfortable concentration during the most arduous tournament.
The headset is relatively robust and combines good quality components for the price. The USB transmitter/receiver module, which features the latest low-latency 2.4GHz wireless technology, delivers uncompressed audio that's free from any compression artefacts and sounds as good as at the source. Capable of operating up to 22 metres from the USB transmitter/receiver module, the headset ensures maximum freedom and is great for slouching on the sofa away from your computer – it's not all about gaming you know! Both the headphones and microphone are fully adjustable, and the USB receiver pairs with the headset in seconds when the requisite driver has been installed. There's also a separate cable that can be used to charge the headset over USB when it's not in use.
Relatively rich audio performance is assured by the 40mm Neodymium drivers, while the low-latency design and noise-cancelling microphone gives gamers good speech delivery. It's also a neat solution for online chat and Internet phone calls – the one-touch controls are optimised for Windows Live Messenger and Skype. The ear cups are a bit small too though, and don't fully surround your ears.
The biggest selling feature of the HS-1200 is that it's wireless and very good for VoIP sessions. Gamers that require voice communication will also benefit. The microphone performs well and does a good job of blocking out outside noise. However, it's a different story for audio playback. Sound quality is average (bass in particularly is muddy) and the bundled software equalisers and filters don't add much. The EAX effects effectively add location-sensitive modifications to sound and X-Fi CMSS-3D makes sounds a bit more immersive, but it's no audio revelation.
Related posts