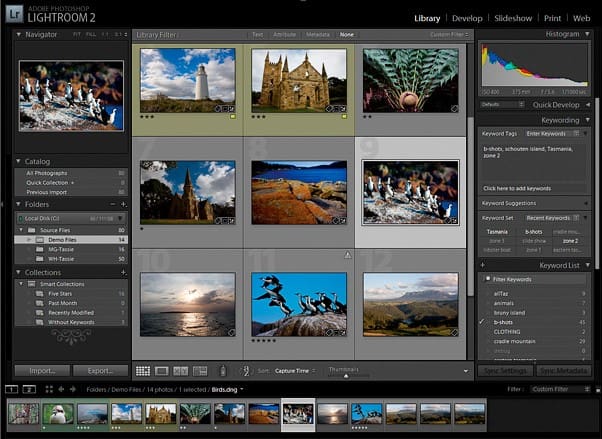 VERDICT
A must-have for the dedicated snapper
PROS
Uncluttered layout; provides non-destructive editing; excellent search & print tools; multiple monitor & 64-bit support
CONS
Expensive for casual photographers
COMPANY
Adobe
http://www.adobe.co.uk
Adobe software is not for the fainthearted. Once you've gotten over the professional-level pricing and spent a lifetime mastering the software can you start to feel good about yourself. But if you've got deep pockets and like a challenge, no other company makes software like Adobe. Photoshop Lightroom is developed specifically for professional and advanced photographers needing to manage thousands of digital images and doing post production work. Unlike Photoshop, which is created for powerful editing, Lightroom 2.0 is for developing your images. Lightroom 2.0 allows you high-precision control over the colour, light, tonal ranges, and even vignetting of your images. And then it integrates with Photoshop (provided you already have the program of course) in those cases where you need pixel-based editing.

The original Lightroom shipped in February 2007, and minor updates were released throughout the proceeding two years. Lightroom 2.0 (Best Current Price: £215) is the latest version and comes with important new features. Adobe has added DNG Camera Profiling which allows custom camera colour profiles, or looks, to be created and saved. It also allows profiles matching the creative styles built in to cameras to be replicated. Adobe has released a complete set of such Camera Profiles for Nikon and Canon models, in addition to basic Standard Profiles for all supported makes and models, through Adobe Labs. This technology is open to all programs compliant with the DNG file format standard.
Lightroom 2.0 offers support of a wide variety of formats including most camera RAW files, JPEG, DNG, TIFF, and PSD. It also boasts non-destructive localised corrections (edit specific parts of an image), improved organisation tools, multiple monitor support (lets you expand your workspace), streamlined search capabilities, more flexible printing options, and 64-bit operating support (both Windows Vista and Mac OS X 10.5). Lightroom 2.0 also provides improved memory performance for dealing with large scale images. The enhanced Library module helps streamline and accelerate workflows and with the ability to visually organise images across multiple hard drives, the Library Filter Bar makes it easier to quickly find the images you need. The Suggested Keywords feature helps you to keyword your images by making suggestions based on your own previous efforts.
The new Local Adjustment Brush lets you fine-tune specific areas of an image to precisely adjust colour, exposure and tonal range without affecting other areas of the image. There are also built in tools to help prevent you from adjusting your images too far, as often happens in Photoshop. The new Graduated Filter allowing for edits to larger areas by applying gradually diminishing or increasing adjustment effects such as exposure, clarity, and saturation, alone, or in any combination. Lightroom 2.0 also helps you to print more efficiently by quickly arranging photos of multiple sizes on one or many pages with customisable templates to maximise paper and ink. Clever algorithms also automatically determine optimal sharpening for screen or print, helping to produce crisper images.
If you want a program to organise your photos, develop them, output print packages, create slideshows, and start your Web presence with a great Web-based photo show, this is the software for you. Even organisationally challenged photographers will find filing and finding images easy, and mass metadata and keyword tagging help to eliminate the need for the endless subfolders. There is even powerful search tools make sure you find your images quickly and easily. With improved precision in developing tools and even easier controls than the original program, Lightroom 2.0 a must for any photographer who wants powerful creative control over their images. For the rest of us, there's Google's Picasa.
Related posts