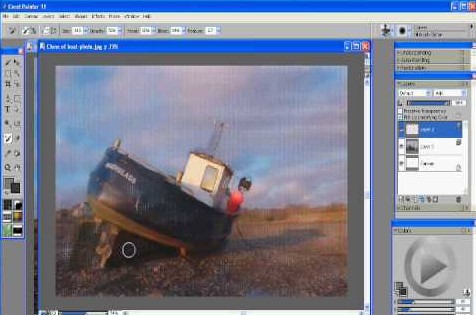 VERDICT
Corel sets the standard for painting software
PROS
Intuitive interface; new pressure-sensitive brushes & enhanced drawing tools; improved speed & colour management
CONS
Pricey; no 64-bit version
COMPANY
Corel
http://www.corel.co.uk
Painter 11 is the newest edition of Corel's fantastic painting and illustration software. With more than 40 new and enhanced features, Painter 11 (£264) provides one of the most approachable painting tools available. Painter is actually a raster-based digital art application that simulates as accurately as possible the appearance and behaviour of traditional media associated with drawing, painting, and printmaking. It is intended to be used in real-time by professional digital artists as a functional creative tool, but it's also great fun for aspiring artists getting involved in digital art.

You should be aware that another version, Corel Painter Essentials (£38), is a less complex version of Painter designed for casual users. Multimedia tutorials, a more intuitive workspace, additional automated tasks and emphasis on photo retouching are some of the features included to appeal to beginners. Painter and Painter Essentials share much of the same underlying code, and have many of the same tools and functions. For professional artists Essentials offers fewer tools and variants, and considerably less control.
The software offers a wide range of traditional artists' materials and tools. With the aid of a graphics tablet you are able to reproduce the effect of physical painting and drawing media. There are also a few non-traditional items such as the Image Hose, pattern pens, F/X, Distortion and Artist tools to allow beginners to use or for applying less conventional effects to an image. Indeed, Painter 11 offers some of the most advanced painting and natural media tools available. For instance, new pressure-sensitive brushes allow hand and brush to fluidly work as one, producing brushstrokes that ooze texture and precision. The RealBristle tool now encompasses hard or dry tools, including chalks, coloured pencils, pastels, and even Conté crayons. So, faster strokes produce thinner lines. Conversely, the velocity control puts down more ink with slower strokes. Also new is support for tablet tilt, which adjusts the width of a brush stroke or pencil line depending on the angle at which you hold the pen.
In essence, Painter works in much the same way as the brushes in Photoshop with similar support for pressure sensitive tablets. However, Painter also emulates the visual characteristics of traditional mediums such as oil paint, pastel sticks, charcoal, felt pens, and so on, on various textured surfaces. New tools let you create and customise brushes and media variants to your precise specifications, including artistic media, hard media brushes and selection tools. Furthermore, enhanced brushes perform up to 30% faster than in previous versions, making this the fastest, most responsive version of Painter yet.
Another neat feature is the ability to experiment with colour theory and composition much faster than in a traditional environment, and without the toxins and mess. With the option to undo brushstrokes and other effects, this digital art studio provides the ability to experiment in an unlimited capacity, giving you the confidence to explore a wide variety of artistic techniques. New colour management improves colour recognition when importing files from other applications – such as Corel's Paint Shop Pro Photo and Adobe's Photoshop – and individual colour profiles per document create greater colour accuracy for each file. Painter now not only lets you save a colour profile along with a file, but also recognises colour profiles associated with Photoshop files. Painter now supports PNG (portable network graphics) files – finally!
Painter 11 is not revolutionary, but a well-tuned update, yet is still an invaluable artist's tool. Its target market obviously means it won't appeal to everyone, especially as it can't compete with photo editing package such as Paint Shop Pro Photo or Photoshop, but it is brilliant for graphic artists, illustrators and fine artists. The only possible downside is that a digital tablet all but a prerequisite, which means further expense to an already relatively expensive application.
Related posts