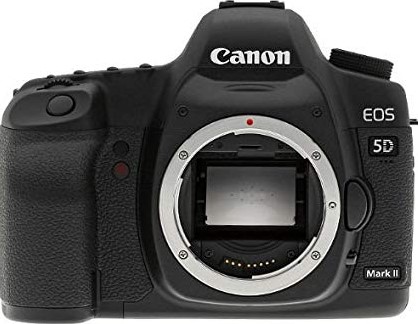 VERDICT
Fantastic upgrade to the EOS 5D, offering superb image quality with HD video capture
PROS
Stunning image quality; shoots HD video (HDMI output), very good high ISO performance; Live View functionality
CONS
No built-in flash or dedicated button for ISO settings; viewfinder doesn't provide 100% coverage; slow burst mode
COMPANY
Canon
http://www.canon.co.uk
Three years is a long time for any product to hang around, especially when the technology changes as rapidly as it does for digital cameras. Canon 5D users have been itching for more, and the successor Canon delivers, the EOS 5D Mark II, is a must-have upgrade, especially for the wedding photography crowd for whom the 5D is a workhorse. And with many of the imaging components of the EOS 1Ds Mark III (and a later version of the image-processing engine, DIGIC 4) for a price tag £2900 lower, it's sure to be an attractive alternative.

The EOS 5D Mark II (Best Current Price: £2999) is the long-awaited successor to Canon's highly popular EOS 5D, introduced in 2005. Building upon the qualities that made the EOS 5D camera so successful, Canon has coupled the creative power of a full-frame CMOS sensor in a relatively compact and affordable camera body, together with HD video capture that opens the door to a much wider range of imaging possibilities for photographers. Along with the ability to capture full HD video clips at 1920×1080 resolution, Canon's EOS 5D Mark II features a 21.1-Megapixel full-frame 24x36mm CMOS sensor, DIGIC 4 imaging processor and significantly lower noise, with an expanded sensitivity range from ISO 50 to ISO 25,600.
Among the many advancements in the EOS 5D Mark II is Canon's proprietary DIGIC 4 Imaging Processor that powers the camera's 14-bit analogue-to-digital conversion for smoother colour tones and improved gradation. It also offers continuous shooting at 3.9 frames per second (fps) for an unlimited number of full-resolution JPEGs to the capacity of the memory card or up to 14 RAW images in a single burst when using a UDMA Compact Flash card. The camera includes a 15-point Autofocus (AF) sensor with nine selectable AF points plus six additional Assist AF points (three centre AF points sensitive to f/2.8 lenses) with enhanced light source detection and AF micro-adjustment for greater autofocus performance.
The EOS 5D Mark II also features a bright 3.0-inch Clear View LCD screen with 920,000 dot/VGA resolution, four times the pixel count of the EOS 5D camera's 2.5-inch screen, for enhanced clarity and colour when viewing images. The new camera is equipped with a high-performance, high-magnification optical viewfinder providing 98% coverage. Professional photographers will also appreciate the enhanced 150,000-cycle shutter durability of the EOS 5D Mark II. With the combination of its improved CMOS image sensor and the DIGIC 4 image processor, the EOS 5D Mark II provides ISO speeds from ISO 100 up to ISO 6400 in 1/3-stop increments, along with two high-speed settings – H1 and H2 – of ISO 12800 and ISO 25600, respectively, as well as a low-speed setting of ISO 50.
Answering the question of where SLR technology is going next, the EOS 5D Mark II features 16:9 Full HD video capture at 1920×1080 pixels and 30fps as well as 4:3 standard TV quality (SD) video capture at 640×480 pixels and 30 fps, both capabilities appearing for the first time in a Canon SLR camera. While there are some obvious applications for video recording in areas like wedding, law enforcement, insurance and other professional and commercial environments, a lot of its usefulness will rest on the implementation. In a nice touch, the camera has a minijack for an external microphone. Video capture is part of the camera's Live View function, using the Picture Style that has been set for Live View still image shooting. This allows photographers to adjust image sharpness, contrast, colour saturation and white balance, and have those settings apply to the movie image. When recording video, the camera's LCD screen can be letter-boxed by a semi-transparent border to match the aspect ratio of the movie recording size.
The EOS 5D Mark II will record video up to 4GB per clip or a maximum continuous movie capture time of 29 minutes and 59 seconds, whichever comes first. Depending on the level of detail in the scene, a 4GB memory card can record approximately 12 minutes of video at full HD resolution or approximately 24 minutes in standard definition. Video clips are recorded in .MOV format using an MPEG-4 video compression and sound is recorded using linear PCM without compression. The new camera features an input terminal for external stereo microphones as well as a built-in monaural microphone for convenience. To help show off movies as well as still photos, the EOS 5D Mark II includes an HDMI (High-Definition Multimedia Interface) output to display images on a High-Definition TV.
Live View is one of the most sought after features in digital SLRs today. The 5D Mark II features three Live View AF modes – Quick, Live and Face Detection Live mode – for capturing either still photos or video, each with its own attributes. Quick mode automatically sets One-Shot AF using the camera's phase detection AF system. It also allows you to select the AF point, even while the Live View image is displayed. Although the camera's reflex mirror must be lowered briefly to take an AF measurement in Quick mode, it is the fastest way to set focus automatically when the 5D Mark II camera is set for Live View. Live mode uses contrast-detection AF with the image sensor and here, as with Quick mode, you can change the AF point using the Multi-controller. Face Detection Live mode uses contrast AF to recognise human faces. When multiple faces are detected, the largest face closest to the centre of the frame is targeted as the AF point. While Live View is engaged you can still change settings including the AF mode (Quick, Live, Face Detection Live mode), drive mode, ISO speed, Picture style, White Balance, and more.
While several of the new capabilities definitely target professional photographers – a pair of low-resolution RAW formats (10- and 5.2-Megapixels), in-camera peripheral illumination correction to compensate for brightness nonuniformity across the image – Canon also adds the Creative Auto mode which debuted with the 50D. The Creative Auto setting allows you to make image adjustments such as aperture or shutter speed through an easy-to-understand navigation screen on the camera's LCD menu, allowing you to blur the background or lighten or darken the image. These easy-to-understand image options allow you to experiment with image options while still shooting in an automatic mode.
The EOS 5D Mark II automatically conducts peripheral illumination correction when shooting JPEG images, a function that previously could only be accomplished through post-image processing using software such as Canon's Digital Photo Professional, which Canon supplies at no extra charge. Peripheral illumination correction evens brightness across the image field, making an image of a blue sky even toned throughout and reducing light fall-off at image edges. This new feature essentially eliminates one of the limitations of previous full-frame digital SLRs.
The successor to the enormously popular EOS 5D improves on almost every aspect that the original was lacking. And by all measures, the EOS 5D Mark II is priced aggressively – when you consider the price of the EOS 1Ds Mark III, the 5D Mark II seems like a bargain. The camera is not too heavy, and we love the fact that Canon has improved its weather resistance and battery life. However, while having HD video is a nice add-on, it is definitely more important to have a viewfinder with a 100% coverage, more AF points, a faster burst mode and a dedicated button for ISO settings (there is plenty of space!) We didn't particularly care for the Creative Auto mode, and find it surprising that Canon decided to include such a feature in a camera of this class. The video feature is a great add-on, but we're not sure it will be used much by professional photographers. Overall the EOS 5D Mark II has an awful lot to recommend it to the serious photographer.
Related posts