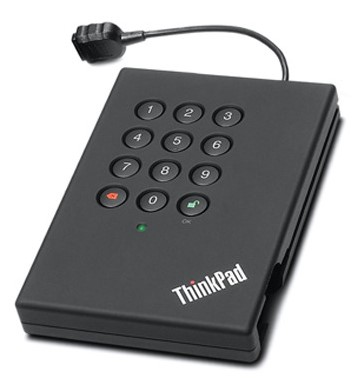 VERDICT
Quality drive for securing your data on the move, but it comes at a price
PROS
Robust build; unique security features; fast; powered by USB; built-in USB cable
CONS
Expensive; USB only; maxes out at 320GB
COMPANY
Lenovo
http://www.lenovo.co.uk
In 1980, storing gigabytes (GB) of data required refrigerator-sized disk storage devices like the IBM 3380s – at a cost of tens of thousands of pounds! Today, hundreds of GB can be stored on portable external hard drives no bigger than a book at a cost of less than a hundred pounds. For a few hundred pounds, you can store terabytes (thousands of GB). A portable 'external' hard drive like Lenovo's ThinkPad USB Portable Secure Hard Drive reviewed here is essentially the same hardware as inside your laptop computer, except self-contained in its own case. The drive connects directly to a desktop or laptop computer using a USB 2.0 data cable, although some drives from other manufacturers also offer FireWire, eSATA or network ports so you can share a drive among multiple computers or backup data over a network.

Optimised for safeguarding essential data while on-the-go, Lenovo's ThinkPad USB Portable Secure Hard Drive (88x122x22mm, 193g) puts a hardcore security spin on portable data backup. Rather than using simple software-based password protection or the latest biometric (fingerprint) security, the gizmo offers high-level data protection using a built-in keypad. Working just like a cashpoint machine at a bank – but without having to slot in a card – data on the ThinkPad USB Portable Secure Hard Drive can only be accessed when you punch in the correct combination of numbers (between 6 and 24 digits).
Designed to give laptop customers a secure way to protect sensitive data in a lightweight and easy-to-use design, the ThinkPad USB Portable Secure Hard Drive is available in either 160- (£107) or 320GB (£135) versions – both spin at a respectable 5400rpm. At less than an inch thin and approximately the size of a 3×5-inch index card, it's even small enough to fit in a shirt pocket. The drive meets the 128-bit advanced encryption security standard to help ensure information remains secure, and real-time encryption means you don't have to wait for the 'lag time' that typically accompanies encrypted drives. The drive features full-disk encryption for up to 10 unique user IDs and one administrator, making it an ideal tool for ThinkPad laptop users on-the-go or collaborating at work. Additionally, the self-powered hard drive eliminates the hassle of keeping up with power cords, and a convenient built-in USB cable makes transferring data simple as it resides in the hard drive's housing when not in use.
Lenovo's ThinkPad USB Portable Secure Hard Drive offers an excellent combination of simple-to-use design and advanced levels of security. Sadly it's only available with a USB 2.0 connection and a maximum capacity of 320GB, but if your priority is protecting your important documents on the move, it's a good choice. Sure you can use software encryption systems such as Windows Vista's BitLocker, or third-party products such as DESlock on a regular external hard drive that costs half the price, but these generally require a correspondingly high level of configuration and technical know-how. Lenovo's ThinkPad USB Portable Secure Hard Drive on the other hand requires no special IT knowledge, drivers or software to work with either Windows XP or Vista. It comes highly recommended if your pockets are deep, you're cool with USB 2.0 only, and you don't mind the boring corporate design.
Related posts