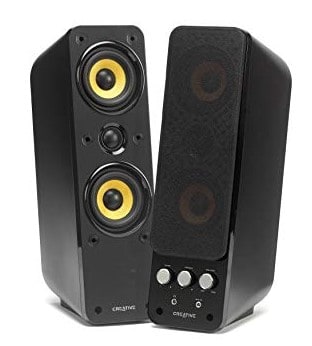 VERDICT
Fantastic two-piece speaker system that can't be beaten for the price
PROS
Stunning value; slick looks; above-par build & sound quality; headphone jack
CONS
Lacks overall balance; struggles with composure at high volume levels
COMPANY
Creative
http://uk.europe.creative.com
The PC speaker is the most primitive sound system used in personal computers. It was the only source of sound available to PC games before more technologically advanced sound cards such as AdLib and Sound Blaster were introduced as ISA plug-in cards in the late 1980s. However, time has moved on and as we're all playing games and watching HD movies on our computers, the humble PC speaker just doesn't cut the mustard.

If you've been waiting for a computer speaker system that sounds so good it makes you want to crank it up and sing along, you should buy Axiom's awesome Audiobytes (from £175). But if you don't want to spend that kind of money accessorising your PC, Creative's GigaWorks T40 Series II are a steal at £77.99.
The GigaWorks T40 Series II are a low-priced but relatively high-end two-piece speaker system ideal for anyone but music producers. Designed to take music listening on PCs, Macs and MP3 players to a new level of excellence, the new speaker system was built based on the fantastic performance of the original GigaWorks T40 and GigaWorks T20 speaker systems, yet refining their acoustic capabilities and design. The result is a remarkable speaker system that can't be beaten for the price.
Creative has taken all the outstanding characteristics and personality of the original speaker system and refined it even further. The company kept the acoustic configurations because they deliver audio that's more balanced and involving. In particular, Creative's BasXPort technology combines excellent dynamics with rich extended bass without a subwoofer, and the silk dome tweeters with their woven glass-fibre drivers produce impressive highs up to 16W RMS per speaker (up from 14W RMS on the original GigaWorks T40s). The result is audio that's even more subtle and detailed.
Each GigaWorks T40 Series II speaker features two woofer drivers with woven glass fibre cones for warmth, and a high-tech tweeter with cloth dome for clarity. These high-quality drivers are arranged in MTM (midrange-tweeter-midrange) configuration for rich listening, supported by Creative's BasXPort technology for responsive bass. With extra power, front-mounted controls and two inputs for simultaneous connection to different sources, this speaker system is equally suited to music and gaming. And for private listening, simply plug in your headphones.
The T40 Series II are excellent value and sound really impressive. However, serious music listeners or those creating their own music should spend more (about three times in fact) and get a pair of mini-monitors that will offer better clarity, neutrality, and overall balance. The GigaWorks T40 Series IIs also struggle with composure at high volume levels, but you can't complain too much considering the price. Hardly hi-fi or luxurious, the speakers are nonetheless compact, well built, and they sound great for general computer usage and when hooked up to an MP3 player.
Related posts