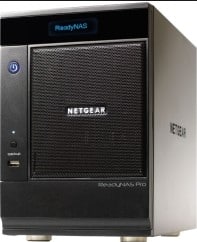 VERDICT
Stunning feature set & blazing performance make it the best desktop NAS on the planet
PROS
Solid build; excellent management tools; protects against disk failure; system monitoring capabilities; built-in backup
CONS
You want the best – you've got to pay for it!
COMPANY
Netgear
http://www.netgear.co.uk
Network Attached Storage is designed to separate storage resources from network and application servers in order to simplify storage management and improve the reliability, performance and efficiency of the network, thus increasing the overall productivity of a business. But a NAS device isn't exclusively designed for business and an ever-increasing number of technology enthusiasts are purchasing these types of devices to share their music, photos, videos and files over a home network.

Netgear's ReadyNAS Pro Business Edition is special because it's the industry's first six-bay small form factor NAS, enabling you to store, protect and share up to 6TB of data. Don't worry if you think it would take you five hundred years to fill that amount of storage space – Netgear also offers 1.5TB (Best Current Price: £1248) and 3TB (Best Current Price: £1816) models in addition to its flagship 6TB (£2797) unit. No matter which ReadyNAS Pro you go for, you're guaranteed class-leading performance, high availability, ease-of-use, expandability, and top-notch serviceability.
The ReadyNAS Pro provides up to 6TB of network attached storage, enabling users across a LAN or WAN to store, backup and share digital data from a combination of Windows, Macintosh and Linux platforms. The newest and most powerful member of Netgear's ReadyNAS product family, the ReadyNAS Pro supports RAID (redundant array of independent disks) 0, 1, 5, 6, and auto-expandable X-RAID2 to provide robust data protection against single disk failure. To ensure high availability to stored data, the ReadyNAS Pro features dual redundant Gigabit Ethernet ports for failover protection – they also support load balanced and redundant link teams. Sadly there's no Wi-Fi support for super-duper high-tech home networking, but Netgear is primarily targeting small businesses with this device.
Housed in a compact desktop form factor that sports a funky smart OLED (organic light emitting diode) display, the ReadyNAS Pro products support up to six SATA I or SATA II hard drives via six lockable, hot-swappable disk trays. There are also three USB 2.0 ports that enable the connection of USB drives for addition storage/backup or printers. The LCD display is a great feature as it provides quick status readings and incorporates an active system monitoring capability which continually monitors the entire system for abnormal situations or part failures and e-mails system alerts to the network administrator. There's also a Web-based graphical user interface (GUI) and setup wizard for ease-of-use and setup, and jobs can be scheduled to run at specific intervals. The appliance can manage its own daily and weekly backup schedules and secure data to another NAS appliance over the network.
It builds on the already awesome Netgear NV+ with a 1.8GHz dual-core processor and 1GB of DDR2 memory (upgradeable to 4GB), which is far more power than other NAS devices on the market. And when it comes to performance, the ReadyNAs Pro screams! During testing, some of our team were able to achieve read and write speeds above 100MB/s (that's right, 100 Megabytes per second). Can you imagine dragging and dropping a 2GB file in 20 seconds?
We all face unique challenges when it comes to storing and protecting our important data. An increasing number of growing advanced users are realising the need for a powerful storage solution that enables them to centrally store, protect and share vast amounts of critical data across a variety of different platforms. This powerful all-in-one NAS device delivers the critical combination of value, performance and features that makes it an ideal, scalable networked storage solution for sophisticated home users and growing companies. If you thought the Netgear NV+ was amazing, this NAS is awesome! Fast, quiet and full-featured, it's a great upgrade for those who want maximum performance.
Related posts