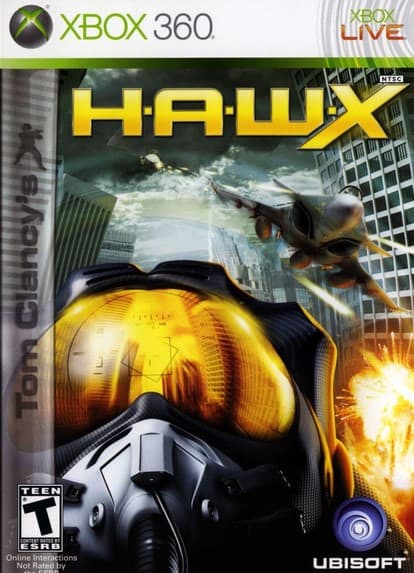 VERDICT
The new air combat benchmark
PROS
Stunning graphics; strong & consistent voice work; intense action; instantly accessible
CONS
Gameplay can get repetitive
COMPANY
Tom Clancy's
http://www.hawxgame.com
Tom Clancy's H.A.W.X. (High Altitude Warfare eXperimental squadron) is a sweet air combat game. It doesn't exactly revolutionise the way we think about combat in the sky, but it's totally accessible for casual gamers and doesn't take long at all to master. Available on the Xbox 360 (£39.99, reviewed here), PlayStation 3 (£39.99) and Windows-based PC (£19.99), H.A.W.X. marks the next evolution in the Tom Clancy video game universe. Providing a new environment along with an extension of a familiar storyline from our other successful Tom Clancy franchises such as Ghost Recon Advanced Warfighter, H.A.W.X. will appeal to any gear who relishes futuristic combat simulators.

Developed by Ubisoft's Bucharest studio, H.A.W.X. delivers an intense and relatively authentic – albeit unrealistic – aerial combat experience by fully leveraging the benefits of the next-generation platform. Set in the year 2012, you have the opportunity to take the throttle of over 50 of the world's famous aircrafts, as well as being able to dogfight over realistic modern landscapes that have endured years of post-war trauma. As the era of the nation-state draws quickly to a close, the rules of warfare evolve even more rapidly. More and more nations become increasingly dependent on private military companies (PMCs), elite mercenaries with a lax view of the law. The Reykjavik Accords further legitimise their existence by authorising their right to serve in every aspect of military operations. While the benefits of such PMCs are apparent, growing concerns surrounding giving them too much power begin to mount.
The game is set in the same universe as Tom Clancy's Ghost Recon Advanced Warfighter; as Captain Scott Mitchell, the Ghost leader, is featured in one of the missions. Plot elements are carried over from other Tom Clancy games such as the missile defence system found in Tom Clancy's EndWar. In fact, the game takes place in between Tom Clancy's Ghost Recon Advanced Warfighter 2 and Tom Clancy's EndWar. You begin the game as former U.S. Air Force pilot David Crenshaw and provid fire-support missions for the Ghost team as part of an elite unit called H.A.W.X. Some time after the events of Ghost Recon Advanced Warfighter 2, you then join a PMC, Artemis Global Security, and fly missions for them until there is a crisis with the U.S. being attacked by Artemis Global Security. At this point, you decide to return to the United States Air Force to defend the country.
H.A.W.X. is special because it is the first air combat game set in the amazing Tom Clancy video game universe. A key feature of H.A.W.X. is the Enhanced Reality System (E.R.S), the backbone of the H.A.W.X. flight experience: radars and incoming missile detection, anti-crash system, damage control system, tactical map and information relay, and weapons trajectory control. E.R.S. also allows you to issue orders to your squadron – attack, defend and such like – similar to the Cross-Com system using in Ghost Recon Advanced Warfighter.
Novice air combat gamers can ease into their flight missions and gain a level of comfort with the use of the assistance mode. Once employed, you can take full advantage of your technological support through the E.R.S and gain maximum piloting security. If the situation calls for you to unleash the full potential of the aircraft, the assistance mode can be switched off and all safety features will be deactivated. This comes with increased risks, but allows you advanced dog fighting manoeuvres and impressive third-person views. For the first time ever in the air-combat genre, you can play the entire solo campaign in four-player 'jump-in' co-op mode. And in PVP mode, you can challenge up to 15 friends in intense dog fighting sessions. Winning players are rewarded with experience points and money to unlock more weapons.
H.A.W.X. is the best flight game so far this generation, and a worthy addition to the best in the Clancy stable. While it's quite often entertaining and challenging, it can often be frustrating and boring as well – especially when you crash into the ground or a building and you have to restart from a checkpoint. With its outstanding presentation (the integration of satellite imagery with detailed plane models combine to great effect), some innovative gameplay, fast-paced missions, fantastic set pieces, and the overall lack of competition, H.A.W.X. is the best game in its genre – it even surpasses the excellent Ace Combat series, upon which its core gameplay and design ideas are based. Who doesn't want to soar 40,000 feet above the earth destroying dozens of enemy planes and ground troops?
Related posts