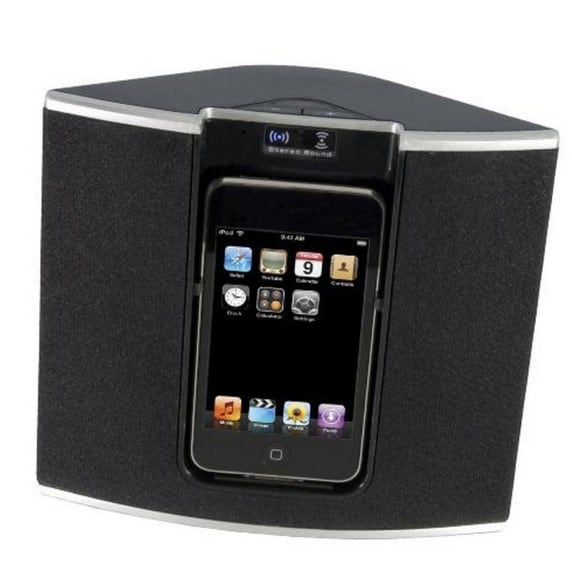 VERDICT
A brilliantly simple iPod dock
PROS
Compact; easy to use; slimline remote; stereo line-in & video output; built-in accelerometers; AC adapter or AA batteries
CONS
Hardly hi-fi quality sound; basic features
COMPANY
Logic 3
http://www.logic3.com/
Wherever you like to listen to your tunes – living room or garden, office or car – there's an iPod speaker for you. Most include docks that charge your iPod as they play, and many even come with remote controls. They all come in different shapes and sizes too, from Bose's incredibly expensive hi-fi replacement SoundDock (£258) to iHomeAudio's crazy-ass iH85BX Bike to Beach Speaker System (£32.38). If you're an iPod (or iPhone) owner, you can easily spend as much on accessories as you did on your iPod itself.

Following on from its i-Station Rotate, Logic3 has added another iPhone/iPod docking station to its i-Station line-up. The rounded pyramid-styled i-Station25 (Best Current Price: £68.50) might look a little basic compared to more expensive docks that have lots of flashing lights and a big clock, but it is special because it caters for portrait and landscape viewing of your iPhone/3G, iPod Nano 3G/4G and iPod Classic/Touch 1G/2G's display. This is a neat feature because, thanks to wonderful built-in accelerometer technology, the i-Station25 automatically adjusts the speaker channel output to maintain the correct left and right stereo balance. Also included is a slimline remote control and a video-out port for connection to a TV, should you want to kick back and enjoy your tunes and videos on a larger display.
The i-Station25 is an unassuming iPod dock, but it's this simplicity which makes it a snap to use and totally effective at doing what it promises. As an added bonus it has a compact footprint (170x125x154mm), which makes it a brilliant solution for sitting on a bedside table. In fact, I was so impressed with it that I've filed for divorce from my GEAR4 BlackBox 24/7. The BlackBox 24/7 is okay, it's just that the controls are so bloody fiddly that it took 3 days to line up a track a play! The display is too bright too, which the missus picked up on quite quickly – my feeble excuse of claiming it was mood lighting just didn't work…
The i-Station25 isn't the loudest iPod dock, offering just 8 watts (2x 4 watts-per-channel) of output courtesy of four 40mm speakers. But, thanks to the built-in accelerometer, allows the i-Station25 to be positioned on its side for video playback while maintaining stereo sound positioning. The accelerometers are also smart enough to ensure correct left and right sound output when the i-Station is placed on its side. According to Logic3, this cuts down on noise distortion as well. While the i-Station25 would be totally lame at a house party, it's a great solution for easy evening listening or chilling while in the bath. Heck, it can even be powered by four AA batteries (not supplied) instead of the bundled AC adapter for total power autonomy, and there's even a stereo line-in cable for playing other audio devices such as an iPod shuffle, MP3 or CD player. Brilliant!
Using the dock is a snap, literally. Relying on the Dock Connector to grip your iPod, you simply slide your iPod down into the i-Station25 and it springs to life. Pressing the dedicated power button on the top of the unit gets the juices flowing, and there are dedicated volume controls just underneath. At the front of the dock are two LEDs that illuminate blue to indicate whether the dock's speakers are working vertically or horizontally. This is hardly necessary as it's obvious which way the speakers are working by looking at the unit, but I'm never one to knock blue LEDs. Once your iPod is docked and powered (as an added bonus it gets charged at the same time), you can navigate your audio and video using your iPod's scroll wheel or by using the remote control.
From the remote you can Play, Pause and Skip tracks, alter volume levels, and tweak Bass and Treble levels. One button press also Mutes the dock, which is great if the phone rings, as well as turn on video output. Also handy is the fact you can navigate your iPod's menu system, allowing you to select audio and video files for playback in addition to altering your device's settings. There are no clumsy buttons to press on the dock itself and no annoying synchronisation procedures to endure – the i-Station25 is simplicity itself.
If you are looking for an iPod dock that oozes features and offers sound quality to rival your hi-fi, you'll be disappointed by the i-Station25. It doesn't even include a rechargeable lithium-ion battery for more power and longer playing time, battery-level indicator, FM/DAB tuner, or clock! But if you want a dock that's small, easy to use and sounds above par, the i-Station2 is great. Its innovative accelerometer technology is a neat touch too, allowing you to simply turn the dock sideways for a better view of videos and photos. Plugged or unplugged, the i-Station25 simply lets you play your favourite tunes out loud for very little financial outlay. A cracking little device!
Related posts