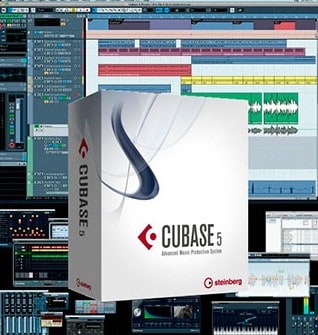 VERDICT
More appealing than ever, but Cubase remains very expensive
PROS
Slick interface; incredibly powerful; streamlined core editing tools; new tools for creating beats; awesome Pitch Correction
CONS
Expensive; steep learning curve; under-equipped plug-ins
COMPANY
Steinberg
http://www.steinberg.net
Cubase is the most powerful music production/recording software for Windows-based computers. Certainly not the easiest to use program on the planet – there are much better programs for beginners – Cubase 5 (around £499) offers advanced users unbeatable recording and producing tools for producing and distributing music on CD or the Internet.

Cubase is essentially a series of MIDI, music sequencer and digital audio editing computer applications (commonly known as a DAW – Digital Audio Workstation). As you can already tell, it's definitely not a program you'll be able to master in 5 minutes. A world apart from the likes of Steinberg's very own Sequel 2 and Apple's GarageBand, Cubase 5 offers many new features including beat creation tools, vocal editing and (real time) pitch correction, VST expression tools for easy editing of instrument articulations, improved handling of automation data, and a VST3 convolution reverb. This latest version also supports 64 bit-technology under Windows Vista.
Steinberg has added important new features in five areas that are essential to modern music production. First, the Germany-based company came up with a new set of beat creation tools that focus on beats, rhythms and grooves that are fundamental to most genres. These include the LoopMash VST instrument developed with Yamaha, the Groove Agent ONE drum sampling plug-in as well as Beat Designer, which all cover different aspects of getting the groove going. Next, Cubase 5 offers a new toolset designed for working with vocals. The new vocal pitch editing tool is called VariAudio and is integrated directly into the Sample Editor.
Thirdly, Steinberg added a new VST3 PitchCorrect plug-in based on Yamaha Pitch Fix technology, which corrects intonation automatically. PitchCorrect is simple enough to use – you can set the notes to be snapped to by picking a scale from the list; setting a scale yourself; or by using incoming MIDI notes/chords to determine a target note/scale. Setting the speed to maximum results in the characteristic T-Pain-esque uber-tune effect, although for 'normal' use, you'll set it much lower. There are controls for transposing and shifting formants, too.
And last, songwriting and composition features have also seen significant enhancement in Cubase 5. The new VST Expression technology, which assists in controlling musical articulations, radically simplifies work with large orchestral libraries for symphonic or film scoring. The brand new REVerence VST3 convolution reverb and a new handling system for automation add additional tools for mixing, and multiple improvements to the MediaBay sound management system and editing windows along with new recording features and an advanced Batch Export make Cubase 5 more powerful than ever.
Another neat feature for the travelling musician is the virtual MIDI keyboard. Popping out of the Transport section when you press a couple of hotkeys, the keyboard lets you shift octaves and change the velocity with the arrow keys on your keyboard, and use the two leftmost sliders on the interface to introduce pitchbend and modulation (also achievable by clicking with the mouse on a key in the display and dragging). While other applications have virtual keyboards too, they are often limit to an octave's worth of keys. Cubase 5's keyboard, however, offers a full two-octave mode, similar to the arrangement used in trackers.
There really is so much to discuss in a high-end program like Cubase that's it's hard to focus on the important stuff. Besides all the new cool stuff mentioned above, existing Cubase users will appreciate the all-new floating Automation panel that allows you to temporarily disable reading/writing of specific types of automation, arm/disarm automation for the entire project, show only certain types of automation lane and/or ones that actually contain data, and set the reduction level without diving into the Preferences menu. There's also a new Trim mode for volume automation, the all-new VST Expression system makes it a lot easier to specify articulations when working with complex instruments that offer a range of playing styles, and the Export Audio Mixdown dialog now sports an extra section enabling you to select which channels to export.
There's a lot to love in Cubase 5, but it's still an overwhelming experience for all but the most advanced music producers. Twenty years old – and still only on version 5 – the software has a ton of cool new features, many of which will have a big impact on the creative process. The vocal pitch-correction editor is a real highlight, especially for letting poor vocalists off the hook, and the beat creation tools are a welcome addition. We're glad to see the Tempo Track finally integrated into the arrange window, and the Channel Batch Export simplifies the procedure of exporting a mix as a series of WAV files for import into another application. The biggest disappointment is the range and quality of plug-ins, especially compared to the excellent instruments in Cakewalk's better-priced Sonar Producer 8 (£349). Steinberg needs to shave at least a quarter off Cubase's asking price to make the software more competitive.
Related posts